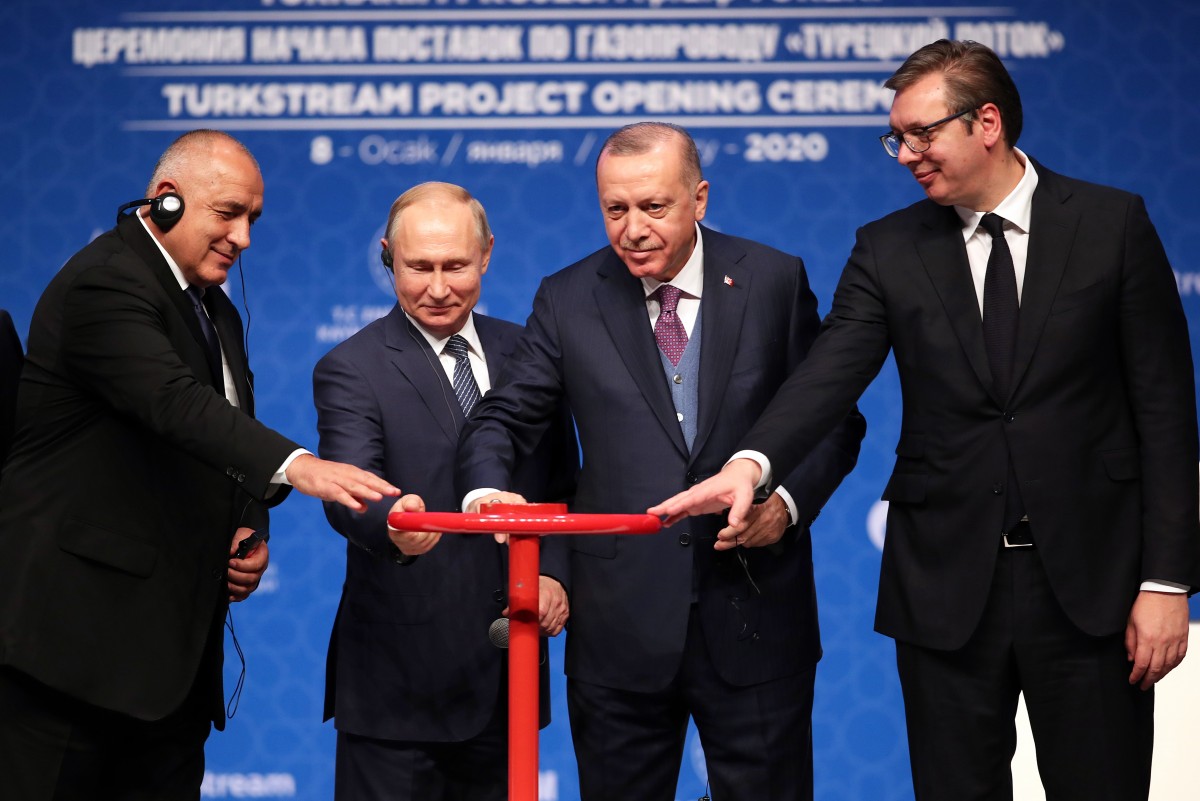 An official ceremony in Istanbul took place to signal the launching of the TurkStream gas pipeline. Russian President Vladimir Putin and Turkey's Recep Tayyip Erdogan as the inaugural hosts, along with Serbian President Aleksandar Vucic and Bulgarian Prime Minister Boyko Borissov pressed the pipeline button.
Speaking at the inauguration ceremony of TurkStream, President Erdoğan noted that "Our goal is to highlight our country as a global energy hub. Our country has never sought regional tension. The sole purpose of our hydrocarbon exploration efforts in the Eastern Mediterranean is to safeguard the interests of our country and of the 'Turkish Republic of Northern Cyprus'. In the Eastern Mediterranean, from a diplomatic, legal and economic point of view, there is no chance of a project making it through unless it includes Turkey. Of course Turkey will have a say in any project in the Eastern Mediterranean, as it has the largest coastline".
The TurkStream gas pipeline will ensure Europe's energy security, President Putin stated. The Turkish host said that Russia is the main supplier of gas to Turkey and the two countries will continue to develop their co-operation not only in the field of energy but also in other sectors. Recep Tayyip Erdogan said the name TurkStream was given by his "dear friend Putin".
The Russia-Turkey interaction is growing in almost all sectors, despite the efforts of some international actors, Vladimir Putin said.
"The successful implementation of the large-scale joint project for the construction of the Black Sea gas pipeline clearly shows that the strategic partnership between Russia and Turkey has produced significant and tangible results", Putin continued.
"The interaction between Russia and Turkey is constantly evolving in almost all areas. Despite the difficult situation in the world and the efforts of many international actors to prevent the expansion of mutually beneficial cooperation between our countries, the synergies continue", he said. In 2019, Moscow delivered to Turkey about 24 billion cubic meters of gas.
Russian Energy Minister Alexander Novak and Gazprom board chairman Alexei Miller attended the ceremony, alongside Turkish Minister Fatih Donmez.
"We have shown everyone that nothing can withstand political will. The project was completed much earlier than planned. We are proud of the fruits of this cooperation. This constitutes a strategic project that will contribute to the energy security of Turkey and Europe, improving the lives of millions of people", Turkish Energy Minister Fatih Donmez commented.
He referred to TurkStream as one of the most important projects to help avoid the dangers of gas transportation.
The TurkStream project involves the construction of a gas pipeline consisting of two lines with a capacity of 15.75 billion cubic meters each. The first relates to the supply of Russian gas to Turkish consumers, while the second to the supply of countries from South and Southeast Europe. /ibna