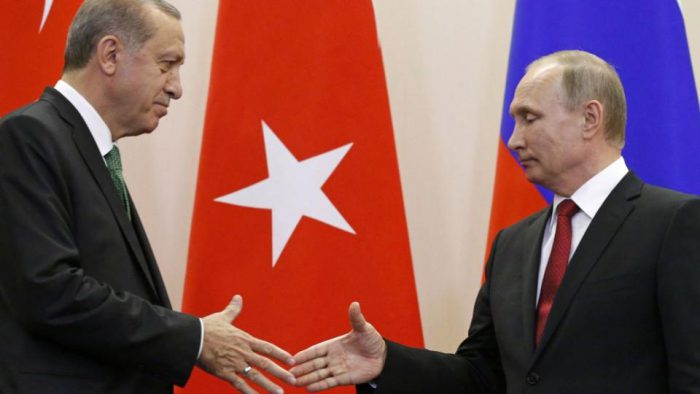 In November 2015, Ankara and Moscow saw their bilateral bonds in tatters following a military incident where Turkey shot down a Russian military plane after it violated its airspace. Back then, Moscow had decided and banned Turkish imported products and the visa-free travelling of Turks to Russia.
Two years later, the two countries make efforts to leave the recent past behind them, looking ahead and hoping to strengthen the bilateral ties.
This is a wish that both presidents have.
"'We have agreed to deepen our relations,' Recep Tayyip Erdogan told a news conference with his Russian counterpart Vladimir Putin at the presidential residence in the Black Sea coastal city of Sochi, following a meeting between the two leaders.
Erdogan added that he was 'pleased' that relations between Ankara and Moscow have reached a 'very advanced level'", reported Anadolu news agency.
Although Erdogan stressed that this is not a "satisfactory level" at least both himself and the Russian head Vladimir Putin are doing their best so as to achieve further improvement.
The Turkish President's visits to Russia this year (three in total) prove his willingness to patch things up, noting that one of the most important issues for him is the increase of bilateral trade.
The situation looks bright also from Russia's side. President Putin spoke of "pre-crisis levels", specifically saying that "the increase in the trade volume between our countries also indicates this."
According to what the Russian head said, there was a 36% trade rise in the first nine months of 2017 and Moscow believes that, hopefully everything will be fixed as soon as the end of the present year.
Putin said that he and Erdogan talked about the very lifting of "the remaining restrictions on Turkey."…/IBNA