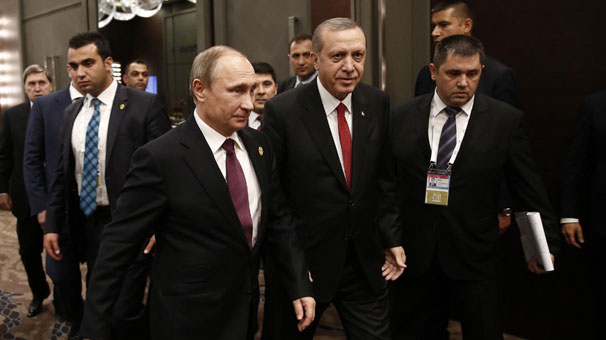 Ankara, November 16, 2015/Independent Balkan News Agency
By Manolis Kostidis
Recep Tayyip Erdogan had a meeting with Vladimir Putin in the sidelibes of the summit of the G20 in Antalya. The two leaders spoke for about an hour and the meeting was attended by Turkish Foreign Minister Feridun Sinirllioğlu, head of the MIT, Hakan Fidan, and Russian Foreign Minister Sergey Lavrov.
According to information, at this midnight bilateral meeting the Turkish president explained to Putin Ankara's objections to the support given by Moscow to Syrian President Bashar Al Assad. Erdogan stressed that if Assad is not removed, the conflict in Syria will continue. However, at one point Turkey was clearly calling for the immediate withdrawal of the Syrian President, while now it expresses its reservations on the matter. The Turkish President also explained his fears of a new wave of refugees from the attacks in Aleppo.
The Russian president, however, did not seem to agree with the views of the Turkish president, as the primary objective of Moscow is the jihadists, and explained that this is the main reason for the support to Assad.
Despite their disagreements on the issue of Syria, the two leaders agreed on the organisation of the Supreme Turkey-Russia Cooperation Council to be held in Moscow on December 15. This sends the message that on economic and political level the relations between the two countries will continue as normal.