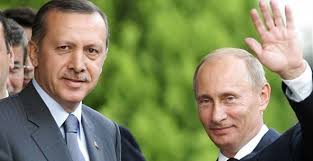 By Manolis Kostidis – Ankara
Recep Tayyip Erdogan called Russia "Turkey's number one energy partner" during a joint press conference with Russian President Vladimir Putin. The two leaders co-chaired the fourth High-Level Russian-Turkish Cooperation Council held in St. Petersburg.
Besides the issues of cooperation in the energy sector and trade reaching the USD 50 billion mark, Putin and Erdogan also discussed their disagreements on the Syrian issue.
Until recently, Ankara persistently asked for the immediate departure of Assad from his post and supported rebels fighting him while Moscow wants Assad to stay in power.
"On some points in the Syrian issue we may disagree but we continue to cooperate to resolve problems" Putin stated.
The Russian President stressed Turkish construction companies have until today executed projects worth USD 50 billion and referred to the nuclear plant in Akkuyu that Russia will build in Turkey. Putin stated all the necessary measures will be taken to ensure its safe operation.
Erdogan called for Assad to be tried in The Hague and referred to the UN role in the Syrian issue, accusing the international community of delaying to find a solution to this issue. "We have 600.000 refugees from Syria. Turkey has supported efforts in Geneva and there is no more time to be wasted" the Turkish PM stated.
The two countries aim for trade between them to reach USD 100 billion by 2020. Russia provides Turkey with natural gas and oil as well as building its nuclear plant in Akkuyu (an investment exceeding USD 20 billion in value). Turkey's energy dependence rises each year as its needs for natural gas and oil rise. The Blue Stream pipeline connecting Russia and Turkey through the Black Sea has been completed.
Turkish construction companies dominate the construction sector in Russia and export of fruit and vegetables to Russia are also considered important.