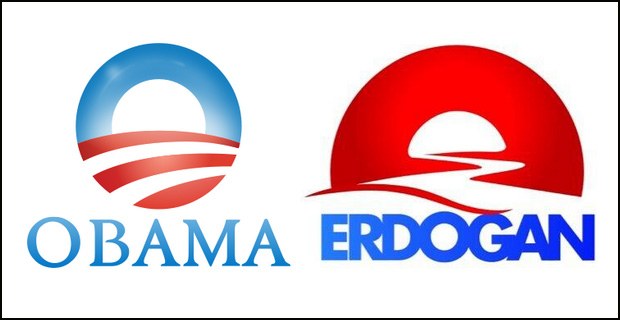 By Manolis Kostidis – Ankara
Recep Tayyip Erdogan is officially a candidate for the presidential elections of Turkey that will be held on August 10, and it seems that he is trying to incorporate elements from the electoral campaign of Barack Obama!
The campaign logo of the Turkish prime minister, is similar to the equivalent of Barack Obama's in the election campaigns of 2008 and 2012! Both logos have a sun that symbolizes hope, with Erdogan's circular logo having traces leading to the exit of a tunnel, as his colleagues mention.
Erdogan's promices
The announcement of the candidacy of the Turkish Prime Minister was made by ​​the vice president of the ruling AKP party, Mehmet Ali Sahin, in a congress in Ankara with the presence of 4000 members. It was followed by a speech from Erdogan, who many have characterised as a "political show", which lasted for lasting an hour and three minutes.
The speech of the Turkish Prime Minister did not have elements of a politician who has already been in power for 12 years, but rather he spoke as if he is just now coming to power.
He promised a "more democratic Turkey", asked "forgiveness from those who might have made unhappy" and said that "if I am elected I will be a president not only for those who voted for me but also for those who did not". Political analysts believe that the Turkish Prime Minister is trying to appear unifying, since he needs 51% of the votes in order to be elected in the first round of the presidential elections. In this "political battle" he needs the votes from other factions and his main aim are the Kurds voters.
His wife Emine and the vice-president Bulent Arinc often shed tears in his speech.
Succession scenarios
The question that arises for the turkish government is who will govern the country until the elections as well as after August 10. Scenarios indicate that for a few months the governance will be in the hands of the Deputy Prime Minister Bulent Arinc.
Erdogan's plan forsees that after the parliamentary elections of 2015, if no major political upheavals occur, AKP will be the winner, and then the current president Abdullah Gul, who will have been elected MP, will take over as prime minister. Already in Ankara they are speaking of running the country using the "formula of Russia" with the exchange of power between Vladimir Putin and Dmitry Medvedev.
The pro-Kurdish Party announced its candidate in the presidential elections, who will be the chairman of the Party, Selahattin Demirtas.
The Republican People's Party (CHP) and the Nationalist Action Party (MHP) last week had announced their common candidate, the Islamist Ekmeleddin Ihsanoglu.
All opinion polls predict Erdogan's accession to the presidency. The question is whether he will be elected in the first or the second round of the elections.