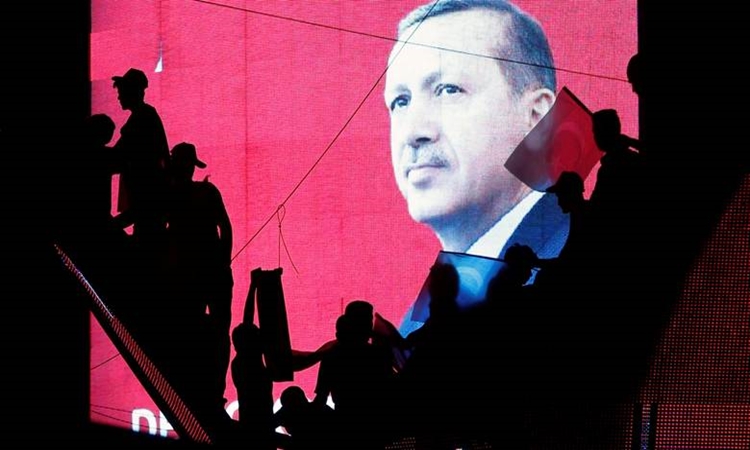 Ankara, July 20, 2016/Independent Balkan News Agency
By Manolis Kostidis
Everyone in Turkey are holding their breath and wait anxiously for the meeting of the Ministerial Council and the Council of Turkish National Security that have been heralded by Recep Tayyip Erdogan. The Turkish president said he will soon announce important decisions.
Information indicates that the entire leadership of the army might be dismissed, such as the Chief of the General Staff Hulusi Akar and the heads of all the weapons, since there are some in the AKP who deem them unsuccessful, because apart from not preventing the coup even though they had been informed a few hours earlier, they fell hostage to the instigators.
At the same time, there is information regarding the seizures of all assets of the instigators of the putschists.
Already, 100 staff of the MIT have been relieved from duty.
Many heads were turned by the decision of the Turkish Directorate of Religious Affairs not to allow the presence of imams at the funerals of the dead coup plotters. "Funeral prayers deserve only the believers who have died and the blessing is given to the deceased during the prayers. The soldiers who conspired to overthrow the government do not deserve the blessings of the faithful, as not only did they trample the individual freedoms, but trampled over the nation with their actions", writes the statement of the Directorate.
At the same time, the purges in the public sector continue, with the government having already requested the waivers of 1577 rectors and professors of universities, while 15200 employees of the Turkish Ministry of Education have been laid off.
What's more, 257 employees have been laid off from the Prime minister's office.
In Antalya the authorities arrested the aviator adjutant of Erdogan, who was hiding in a hotel in Antalya under a false identity.
As a result of the prosecutions in the Armed Forces, there are serious structural issues, since 1/3 of the generals and admirals are being prosecuted for being involved in the coup. This percentage is expected to increase after the dismissals that are coming.
In parallel, according to valid military analysts in Turkey, all troops have been instructed to remain in their camps and as a result the southeast borders of the country are unguarded. There are fears of a counterattack from the instigators of the coup.
There are unconfirmed rumors that 14 ships of the Turkish fleet are unaccounted for, which adds to the disappearance of the two helicopters and the 25 commandos whose objective was to capture Erdogan.
The Turkish newspaper STAR, with a front page publication, claims that the 8 officers who landed in Alexandroupoli with the helicopter were part of the team that targeted Erdogan. However, as of yet there aren't any official evidence that would back these claims.