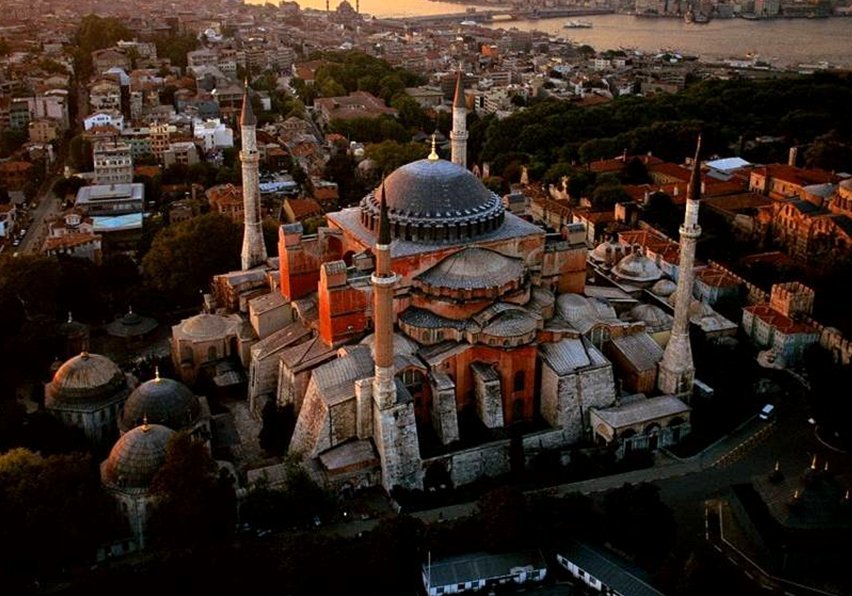 A turkish newspaper refers to provocative plans to turn the Christian temple into a mosque, on the day of Constantinople's fall to the Turks.  
By Manolis Kostidis – Ankara
The reliable newspaper "Radikal" made a surprising revelation, which says that Recep Tayyip Erdogan is preparing to convert the temple Hagia Sophia into a mosque and pray himself along with some official guests from various Islamic countries, on the anniversary of the fall of Constantinople in May 29th! This provocative news has so far not been disproved.
The Turkish newspaper, in an article on Erdogan's strategy prior to the presidential elections in Turkey, makes a reference to the seven steps the Turkish prime minister plans to take "to reach out to the Turkish people in order to normalize the political climate in the country".
One of these "steps" concerns the matter of Hagia Sophia, which he might do in order "to satisfy the Islamists", writes the newspaper.
"The opening of Hagia Sophia in prayer was a vision of conservative leaders. It is known that this is what the ruling AKP party wants. There is a widespread expectation for a development on this matter before the presidential elections next August. There are thoughts about the possible reactions of the international community. In case the opening is not done in the pilgrimage, there is the thought that during the week of the anniversary of the Fall of Constantinople, the Turkish prime minister with some heads of state Islamic countries will pray in Hagia Sophia", the "Radikal" reveals.
The matter of Hagia Sophia perhaps has to do with the issue of reopening of the Theological School of Halki. The "Radikal" says Ankara "without waiting for a reciprocation from Greece as in the issue of muftis or the mosque in Athens, made another step towards the opening of the Theological School. The government's preparations regarding this issue have been completed. The formulations have been prepared and all that remains is the simple mandate of Mr. Erdogan.
The Deputy Prime Minister, Besir Atalay, has stressed that "the work for the reopening of the Theological School continues".
Maybe Erdogan tries to satisfy the international community with the reopening of the school, but in regard to internal policy, in praying in Hagia Sophia, he probably wants to satisfy Islamic fundamentalists in Turkey and around the world.
What is impressive however is that the newspaper "Zaman" publishes an article by Imam Fethullah Gulen, who argues that Hagia Sophia should be used as a mosque. It seems like trying to approach Erdogan through this issue and put an end to the conflict between them.