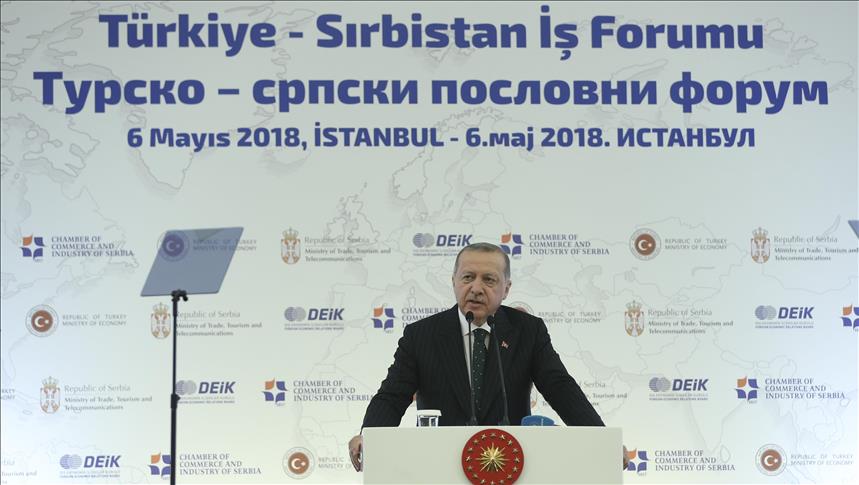 Speaking at the Turkey-Serbia Business Forum in Istanbul, on Sunday, the Turkish President Recep Tayyip Erdogan said: "Serbia is a friendly country for us, a key country for peace and stability in the Balkans. Both countries have strong will to develop bilateral relations in all fields, and carry it to a further point. We want to deepen, diversify and extend our business alliance to new fields."
Pointing out that bilateral trade volume had surpassed $1 billion last year, the Turkish leader said the target had been increased to $2 billion in the short term, then to $3 billion, Anadolu reports.
Tourism is a field that both sides want to establish as a strong tie in the co-operation between them.
Erdogan spoke a day ahead of the Turkey-Serbia High-Level Cooperation Council meeting — scheduled to be held today, May 7- with the participation of his counterpart of Serbia, Aleksandar Vucic. According to Turkey's leader, this "will further increase our momentum".
Erdogan at last year's Forum that was held in Belgrade, Serbia
Vucic attended the business forum in Istanbul as he is already there on a two-day visit, agrees with Erdogan on the tie-deepening plan between Belgrade and Ankara and said "I am inviting the Turkish businessmen to my country. As president of Serbia, my door is open to all businessmen who want to invest in Serbia."…. / IBNA