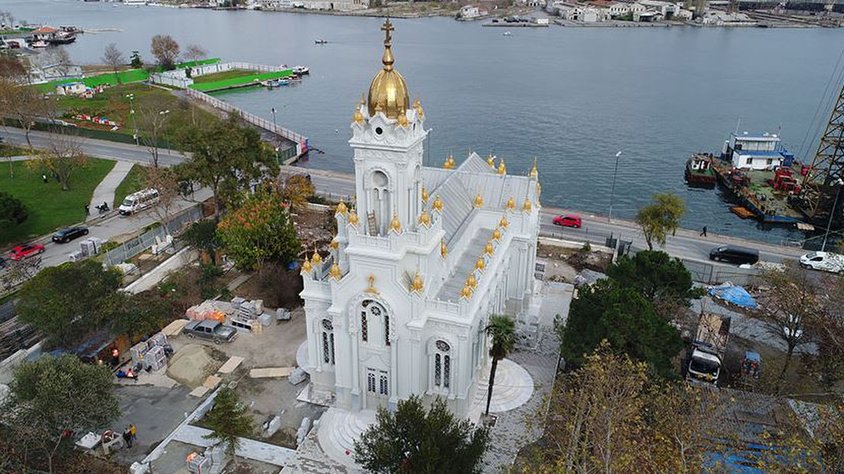 It was built at a prestigious historical spot of Istanbul and a beautiful area (between the squares of Balat and Fener) of historic, economic, cultural and now touristic significance, the Golden Horn. Its full name is the Bulgarian St Stephen Church (also known as Demir Kilise in Turkish, which means Iron Church. The name denotes the 500 tons of prefabricated iron parts that were brought to Istanbul from Vienna, for the building of it) and it is a richly ornamented, three-domed cross-shaped basilica, built initially as a wooden temple inaugurated on October 9, 1849. It became an important site of the Bulgarian National Revival or Bulgarian Renaissance, the "golden period" of development and integration among the Bulgarians who lived under Ottoman rule.
The original 19th-century wooden structure was completely destroyed by a fire and then, this majestic temple, well-known for being made of prefabricated cast iron elements and of neo-Gothic style was built in 1898, twenty years after the Liberation of Bulgaria (1878) – the result of the Russo-Turkish War.
After a long period of seven years, during which it was being majorly restored, St. Stephen Church reopened, this Sunday, January 7, at a ceremony attended by the Turkish President, Recep Tayyip Erdogan who was overseeing it.
"An opening like this carries a significant message for the international audience on my behalf. Istanbul has once again shown the world that it is a city where different religions and cultures exist in peace," Erdoğan said,  only to add that, "It is the responsibility of the state to ensure everyone can worship freely", reports hurriyetdailynews.com.
Erdogan spoke after the Prime Minister of Turkey, Binali Yıldırım and his Bulgarian counterpart Boyko Borisov who could not but attend the reopening. Yildirim, during a period when Turkey is being severely criticised for its "lack" of respect to human rights (e.x. imprisonment of foreign and local journalists, as Emmanuel Macron said to Erdogan during the latter's official visit to Paris), highlighted the meaning of such a project, specifically saying that the "reopening of the church represents 'an example of the tolerant atmosphere in Turkey.'"
Last but not least, the Bulgarian PM, at his get together with the Turkish President after the ceremony, talked about "proof of good neighbourliness and peace", as regards to the re-opening of the church.
The restoration project was co-funded by the Istanbul Metropolitan Municipality in association with the Bulgarian authorities and cost $4 million to Turkey and $253,000 to the Bulgarian government.
Hurriyet notes that, "On the basis of reciprocity principle, the Bulgarian government gave permission to restore the Friday (Cuma) Mosque in the city of Plovdiv, home to a sizable Muslim Turkish minority."…/IBNA