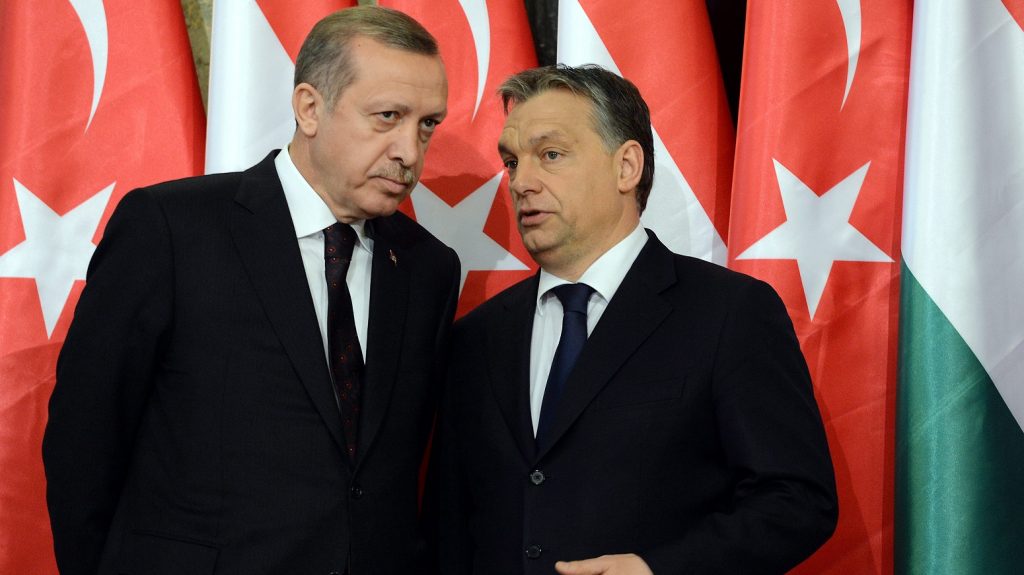 Less than two weeks ago, Turkish President, Recep Tayyip Erdogan had visited Turkey where, although he would have wished to shift the visit's weight elsewhere, what was in focus and is remembered by journalists is Merkel's remark during the presser about human rights in Turkey.
On Monday, October 8, Erdogan will be in Budapest expected to receive a warm welcome by the Hungarian Prime Minister, Viktor Orban. He will be in Hungary on a two-day official visit upon the invitation of his Hungarian counterpart Janos Ader.
After all, as Anadolu news agency has pointed out, "Ankara and Budapest enjoy friendly relations based on historical and cultural ties, NATO alliance, close cooperation within international organizations, especially the EU and the Council of Europe, and Hungary's support to Turkey's EU membership."
Turkey's head is due to meet Ader, Hungarian Prime Minister Viktor Orban and Parliament Speaker Laszlo Kover.
The Turkish presidency' read in a statement, the "The visit will be the sign of the common will at the highest level, aimed at boosting our cooperation with Hungary in every field as part of our strategic partnership."
The agenda of Erdogan and the Hungarian officials' will include Turkey-Hungary bilateral ties and issues immediately linked to them, EU's relations with Ankara, regional and global developments and the burning issues of irregular migration and terrorism.
According to the present planning, Erdogan and Orban are will hold a joint news conference after their meeting. The Turkish leader is said to inaugurate the renovated Tomb of Gul Baba in Budapest's 2nd district, attend a business forum with Orban, and pay a visit to the Budapest Turkish Memorial Cemetery.
Hungary's Orban has been among the first to congratulate Erdogan on his re-election in July and among "the few European officials to attend the inauguration ceremony in Ankara", channelnewsasia.com reads.
Erdogan is accompanied by his wife Emine Erdogan, Turkish Presidential spokesman Ibrahim Kalin and Foreign Minister, Mevlut Cavusoglu…. / IBNA