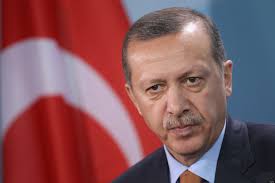 By Manolis Kostidis – Ankara
Recep Tayyip Erdogan, who considers himself extremely powerful, has started to create conflicts with several of his friends and comrades such as the government vice president Bulent Arinc.
Now, a clash has occurred with his mentor Hoxha Fethullah Gulen and the Islamic battalion that has millions of supporters and great influence throughout the country.
In Turkey it is considered that the many "fronts" the PM has opened may be the beginning of a downward spiral as Erdogan is involved in battles with Gezi demonstrators, students, Kemalists, Generals of the Army he has thrown in prison and is now arguing with people that supported his political career.
Dispute with his spiritual father, Fethullah Gulen
The reason behind the disagreement with Gulen is the government plan to place limits on the operation of private tutoring schools. The Gulen battalion which owns thousands of schools nationwide that educate youngsters on the Islamic way of life, believes it is being targeted by Erdogan.
Zaman newspaper – which is owned by the battalion and is read by more than 1 million people daily – says "such laws restricting private schools were enforced by the military junta of Kenan Evren in 1980 and were later withdrawn". Essentially the Gulen group in clearly attacking Erdogan and accusing him of trying to fights its action. The guild had for many years supported Erdogan in every way possible.
One of the most credible Turkish journalists, Nazli Ilicak argues "Erdogan – in collaboration with the secret services (MIT) – is out to destroy the Fethullah Gulen guild".
The reasons behind the clash with the Gulen guild
A main reason for this argument is the battle for power. Gulen is considered to control the judiciary and police in Turkey. Erdogan, on the other hand, has a very good relationship with MIT commander Hakan Fidan  who is his only advisor on foreign policy and internal affairs.
The Gulen battalion which is in favor of spreading moderate Islam is against the support of Islamic extremist rebels in Syria. However, Ankara is tolerating their actions due to the support of Fidan.
Meanwhile, Fethullah Gulen opposes Erdogan's plans to run for President and supports Gul to stay on in that post.
There are rumors already building up in Turkey that the Gulen battalion is considering creating a party, which were denied by an announcement which doesn't however rule out the creation of a movement led by a politician.
Arinc exiting policy or creating a new party?
Last week's controversy between Bulent Arinc and Erdogan may have something to do with these moves.
The following Arinc statement was seen as a sign that he might be exiting politics: "I have been in politics for many years. I now believe there must be an end to active politics. Nobody else, besides myself, has said something before but it is my opinion that every politician should end his involvement with active politics some time or take a break".
For the first time since coming to power Erdogan has taken such unprecedented dissent publicly from Arinc, the most influential member of his party. The reason for the attack and the disagreement was Erdogan's statements on male and female students living in common dorms.
Rumors suggest Arinc may side with President Gul against Erdogan in future.