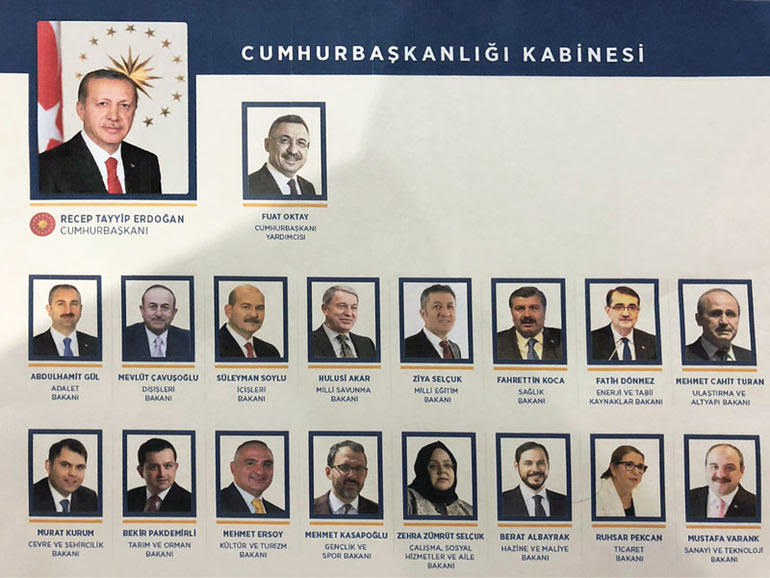 After the swear in ceremony in Ankara, the Turkish president announced the composition of his new cabinet.
The Deputy Prime Minister will be Fuat Oktay.
Although, previously, it had been implied that they vice-presidents might be up to 3, he did not announce more, contrary to the expectations.
Minister of Foreign Affairs remains Mevlut Cavusoglu, whose ministry also assumes the duties of the EU ministry, which was abolished.
Berat Albayrak, until previously minister of Energy, now will be in charge of the Ministry of Economy and Finance. The 40-year-old Albayrak is the son of Erdoğan.
Fatih Donmez, the former secretary general of the Ministry, is placed as Energy Minister.
Another noteworthy upgrading is that of Chief of Staff General Hulusi Akar who will be the new Defence Minister.
The overall picture of the new scheme
The Turkish president finally chose a small and flexible scheme.
He held 4 ministers from the previous government and reduced the number of ministries from 26 to 16.
Both entrepreneurs and technocrats have been appointed ministers in this new cabinet in Turkey.
A tangible example of this, is the new Minister of Tourism, Mehmet Ersoy, who was the chairman of the large travel agency ETSTour.
Another such name is this of Health Minister Fahrettin Koca, who was the chairman of the Medipol private hospital.
Turkish Deputy President Oktay was for many years a member of the Turkish Airlines. Later, he was chairman of the Natural Disaster Response Organization (AFAD) and from 2015 on, the Secretary General of the Prime Minister's Office…. / IBNA