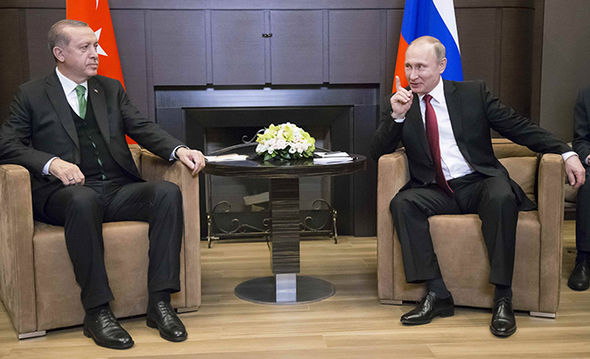 The Turkish President Recep Tayyip Erdogan is in Sochi where he is meeting with his Russian counterpart Vladimir Putin, on Monday late afternoon, at the latter's presidential residence, in the coastal city of Sochi.
The meeting is closed to the media but the two leaders have a joint presser later on.
Ahead of meeting Putin, Erdogan spoke to reporters about it, saying that "Both our bilateral relations in the region and our solidarity [with Russia] on regional problems increase our confidence for the future", wrote Anadolu.
He added, that the intensity of the meetings would strengthen bilateral relations, hoping that this particular get together in Sochi would prove "productive".
President Putin appeared optimistic too, as he noted (also before seeing Erdogan) that the meetings with Turkey up to now have had a "'positive' effect", the ones during which the Syrian conflict was discussed, included.
As Anadolu reported from Sochi, the Russian head said "the bilateral trade volume between Turkey and Russia had increased more than 30 percent in the first eight months of this year compared to last year.
'We can say that the relations between Turkey and Russia are now completely restored'".
Boosting bilateral ties and global matters will be among the items of top interest in the discussion of the two leaders…/IBNA
Photo (Library): Reuters