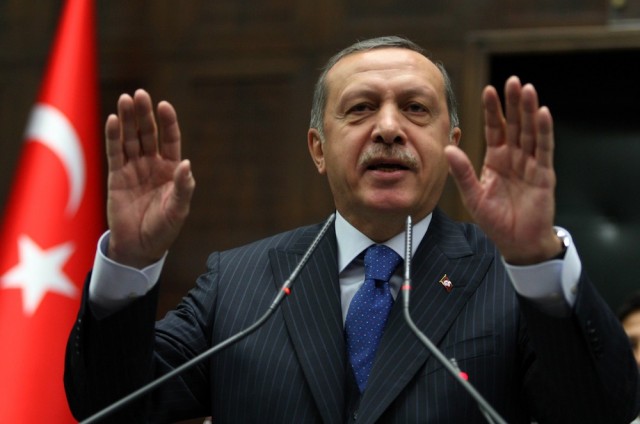 He calls news directors
He asks for changes to be made to polls.
By Manolis Kostidis – Ankara
Recep Tayyip Erdogan intervenes even to the flow of news of television networks and to polls data. This was revealed by a turkish television network, which broadcasted the discussions between the Turkish Prime Minister and the news directors of the Mass Media Group " Ηabertürk". In another country this would have been a major scandal, but in Turkey nobody was affected.
The turkish television network, " Ηalk Tv", broadcasted a telephone conversation in which Erdogan phones Habertürk's news director, Fatih Sarac, and asks him to intermit the live broadcast of the speech of the leader of the National Action party (MHP),  Devlet Bahceli. This speech took place last July. Bahceli was addressing his parliamentary group and was accusing the government for the way they handled the demonstrators in Gezi park.
The same television network broadcasted the conversation between Sarac and Habertürk's program manager, who immediately interrupted the broadcast of Bahceli's speech.
After that, the news director calls the Turkish Prime Minister's son to inform him that he satisfied his father's demand.
Regarding the newspaper of the Habertürk Group, there are revelations that they were "cooking" the data from polls, again by order from the Turkish Prime Minister. A telephone conversation that was made public features Habertürk's newspaper director, Fatih Atayli, talking with Sarac reporting to him that by Erdogan's order they must alter some of the poll's percentages, more specifically, the subtraction of three percent from the MHP and its addition to the pro-Kurdish party of Peace and Democracy (BDP). The poll was published on March 15, 2013.
Fatih Atayli states that the telephone conversations that were made public were edited and have nothing to do with reality.
The most impressive fact is that no prosecutor is intervening neither in regard to these revelations nor in regard to the illegal phone tappings. To the present day, all prosecutors who tried to reveal the corruption scandal concerning the government were removed from their duties.
Erdogan: "Now internet will  be less restricted".
Erdogan, after his clear interventions to the turkish mass media, is also intervening to the internet and limits the freedom of its use. He however, claims that with the government's new bill, internet in Turkey will be "more unrestricted".
"With the new provisions no censorship is imposed. On the contrary, they make it safer, freer. There was never a matter of keeping records of people's personal information", he claimed.
However, according to the bill that was approved in Parliament, the Telecommunications Committee (TIB) is allowed to immediately block any website, without approval from Justice. TIB is allowed to follow this course of action in any situation they judge that there is an invasion of privacy or slander.