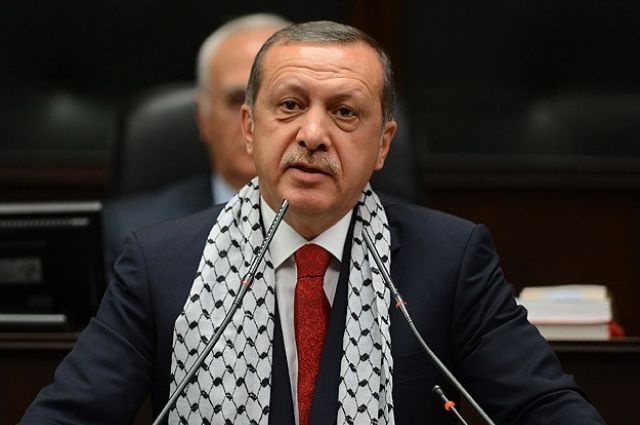 Erdogan wore the kufiya  to present himself as the protector of the Palestinians
By Manolis Kostidis – Ankara
In an effort to impress, Recep Tayyip Erdogan wearing around his neck the kufiya (black and white Palestinian scarf), as a sign of support to the families of victims in Gaza, made his last speech to the Parliamentary Group of his Party in Ankara.
"If I am elected President on August 10, then this will be my last speech to the MPs of the AKP", he said.
The Turkish Prime Minister once again accused Israel's military operations in Gaza, and expressed his support to "all the people in the world who are protesting to stop this brutality".
Erdogan in a bid to attract voters before the presidential elections is trying on a daily basis to highlight the issue of Gaza and prove that Turkey is the only country that cares for the Palestinians! Besides, it is the first time a Prime Minister of Turkey, abandoning the traditional policy of neutrality, wears Palestinian scarf around his neck to show, which side he supports.
"Egypt of the usurpers closed all borders with Gaza. They are the people who killed the innocent and are now watching the slaughter of innocent children in the Palestine. That's what usurpers do", he said.
But the diplomatic isolation of Turkey is clear as the Turkish Prime Minister has admitted that he has stop having phone conversations with Barack Obama. The Turkish opposition press for several weeks wrote that the U.S. president does not answer Erdogan's calls. The last conversation was on February 20.
"In the past I used to call him directly. Because I cannot have the expected results in Syria, now talks are held among our Foreign Ministers", Erdogan said in an interview with broadcaster ATV.
In the same interview, the Turkish Prime Minister revealed his future plans and said that his goal is "to make Turkey a Presidential Republic by changing the Constitution; I believe this will help with quick decision making on various issues". In a relevant question from journalists, Erdogan refuted the claims that he wants "to become the Putin of Turkey".
The Turkish Republic is a Parliamentary one, but already the President of the Republic has considerable powers, including the power to veto appointments of officials, but after the third successive veto the president must accept the choice of government. Erdogan seems that when he becomes president he wants complete control of the state apparatus and not be controlled by anyone.