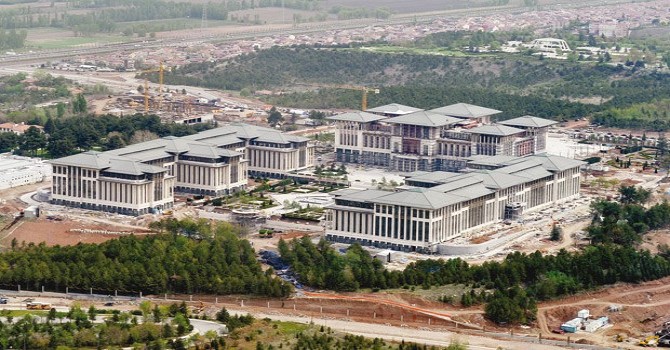 By Manolis Kostidis – Ankara
Today is the inauguration of the new presidential palace in Turkey, built under order of Recep Tayyip Erdogan.
The Turkish president will celebrate the 91st anniversary of the founding of the Turkish Republic in the new Mansion known as "White Serai (palace)".
Critics of Erdogan stress that he is trying to disown the past of Turkey and builds luxury buildings similar to those of the Ottoman Empire. The opposition newspaper Sözcü says that "the new presidential palace there will have 1000 rooms and offices, while at the Topkapi Palace there were 380 rooms".
Recep Tayyip Erdogan has argued that the increased requirements of the presidency cannot be satisfied with the current presidential mansion located in Çankaya mount and that is the reason the new mansion has been built.
A portion of the office of the Turkish president, will be "deaf", as the walls are constructed in such a way as to not allow someone eavesdropping on conversations, even with the help of technology. At the same time, there are no outlets nor cables, to avoid illegal interception attempts by strangers.
The new presidential complex that will be Erdogan's new residence has a total area of ​​300,000 square meters, that apart from offices, halls and official hospitality areas, include gardens, botanical parks. etc. The offices will have a total area of ​​40,000 sq.m. The cost of the project cost exceeded 250 million Euros.
The project started in 2012 and was conceived as the residence of the Prime Mnister. But with the "jump" of Erdogan to the presidential chair last August, he announced that he will not be residing in the Çankaya presidential palace, where all presidents of Turkey have been residing since 1923, among them the founder of the Turkish Republic, Mustafa Kemal Ataturk.
In today's inauguration of the presidential palace 2,500 people have been invited.