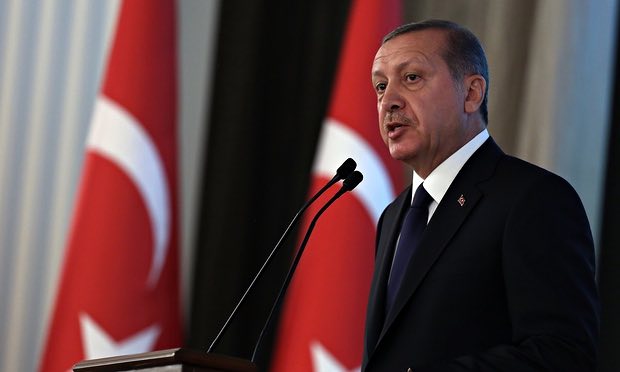 Turkey will not receive the EUR 3 bn promised by the EU for the refugees
With hard and menacing tone replied Recep Tayyip Erdogan to the EP resolution, which proposed the suspension of the accession negotiations with Turkey. The Turkish President threatened to open the borders and fill Europe with refugees!
"30-40 people gathered and they say no to this resolution. 400-500 others say yes. What would have happened if everyone had voted for it. You never behaved honorably to humanity. You were not the ones who had to pick up the baby Ailan from the beach. Nor the baby Umran. It is us who accommodate 3-3.5 million refugees. You did not respect your word", Erdogan said in his speech at the conference of women's organizations (KADEM) in Istanbul.
After this introduction, in his speech the Turkish President expressed his threat to the EU.
"When in there were 50,000 refugees in Kapikule (Turkish-Bulgarian border) you were screaming. You started saying, what will we do if Turkey opens the gates of its borders. Look, if you go a step further, know that these border gates will open. Neither myself nor this people is afraid of cheap threats. You should know this", Erdogan said and was warmly applauded by the audience.
A few hours earlier, analog the same lines were the statements of the Turkish Prime Minister: "We are one of the factors that protect Europe. If refugees cross our borders they will flood Europe and Turkey prevents that from happening", Binali Yildirim said in statements that were broadcasted live by television stations.
A few hours earlier, the Turkish Prime Minister Binali Yildirim had made similar statements in an interview with state television network TRT Haber, in which he stated that "the suspension of relations with Europe will harm Turkey, but the damage will be three or five times greater for Europe. We are one of the factors that protect Europe. If refugees cross our borders they will flood Europe and Turkey prevents this from happening".
Ankara claims not to have received a great financial aid from Europe
According to official data from Ankara, in Turkey there are at least three million refugees and immigrants. Of these about 270,000 are living in camps set up in towns of southeastern Turkey.
The agreement on the refugee issue was signed between Brussels and the Turkish government and provided an initial EUR 3 billion to Turkey for the accommodation of refugees there, the granting of visas to Turkish citizens in the event that Turkey fulfill all the criteria, and the readmission of all refugees who would cross illegally into Europe, starting March 18, when the agreement was signed.
Turkey has so far received only EUR 450 million. The Turkish Government has given studies to Europe for projects worth EUR 1.2 billion, but so far Ankara not received any funds.
In parallel, two programs of the Ministry of Education and Ministry of Health, totaling EUR 600 million, await the European funds. Ankara calls for the removal of visas for Turkish citizens, although it has not changed the anti-terrorism law, which is one of the criteria set by the EU./IBNA
Photo: The Guardian