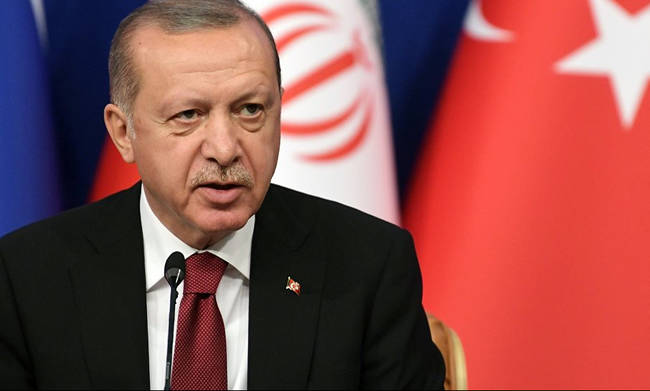 The Turkish President poses the issue of a third drill, a nuclear arsenal alongside the refugee issue
In the most direct way possible, Recep Tayyip Erdogan threatens to flood Europe with a new refugee wave in the event that Ankara is not supported not only financially but also geo-strategically. Speaking from Ankara to Justice and Development Party officials, Erdogan said, "We have 3,650,000 refugees in our country; now, we have developments going on in Idlib. We also have those who come from Afghanistan. But know that this path will take us to different points. What is this point? Either this will be realized (the safe zone) or we will have to open our gates. You can either support us or misjudge us. We can be patient, up to a certain point. We cannot lift this burden on our own; you will have to see as well what it's like to lift that weight. We have not received the necessary support from the EU and the rest of the world, and in order to get it we might have to take these measures".
This statement by the Turkish president has three purposes: Firstly, to pressure the EU in order to send more financial aid to Turkey in support of the refugees. The second objective is to create a security zone within Syria and thus push to "get the green light" from the US and the EU. A third goal is to appease the Turkish society, which is starting to react to the presence of so many refugees in the country. The economic downturn the country experiences has intensified these reactions. It is no coincidence that Turkey's Interior Minister Suleyman Soylu had raised the issue of the removal of 100,000 refugees from Istanbul, a city of 18 million residents.
In his speech, the President of Turkey set out his own agenda for Turkey's armament programs. "Look at what they did with the S-400s; they made such a fuss out of it. We were told "you won't get them". But why shouldn't we take them, since they are defensive weapons systems and not invasive? They actually wanted to prevent us from buying defensive weapons. Yet we managed to buy them in April, with God's help the whole tradition is under completion", he continued.
Erdogan also mentioned the possibility of buying a third drilling vessel from Ankara for use again in the Eastern Mediterranean.
"In the eastern Mediterranean today, what rights we have we have them because of the seismic research vessels and our drilling vessels. In the past we used to rent. It is possible that a third drill might arrive", he added.
The Turkish president has shown indifference towards the views of other countries in the Eastern Mediterranean, and has insisted on Ankara's tough stance on the subject of researches being conducted within the Cypriot region. "We focus on our arguments! Currently our ships are in the area; all our frigates, our corvettes are ready, as well as our aircrafts. No one can deprive us of our rights. The 'Turkish Republic of Northern Cyprus' has rights here, and we as a guarantor country have a right to speak", he underlined.
On Wednesday, Erdogan also mentioned the possibility of building a nuclear arsenal "as many developed countries in the world have done"./ibna