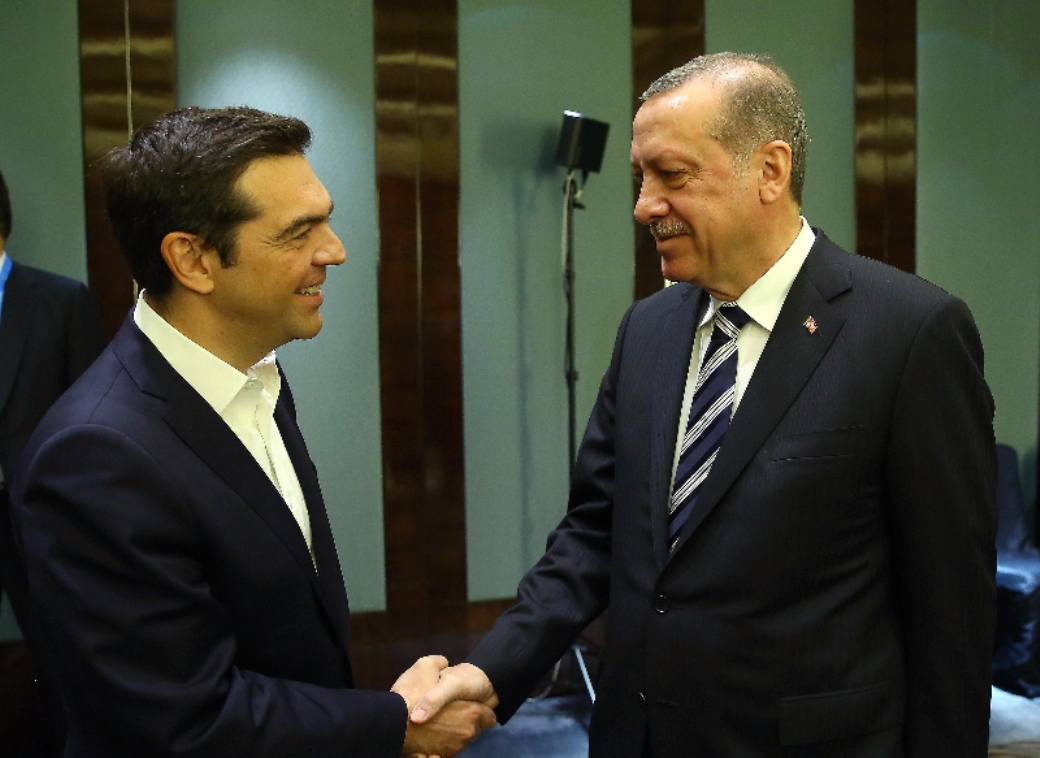 Turkish Prime Minister Recep Tayyip Erdogan met with Greek Prime Minister Alexis Tsipras on the sidelines of the One Belt One Road Forum for International Cooperation whose proceedings begin tomorrow.
Alexis Tsipras and Recep Tayyip Erdogan hadn't met since a two-hour meeting in September 2016, on the sidelines of the UN General Assembly in New York. In the meantime, there were several telephone conversations between the two leaders, but attempts for a new meeting had not been successful, while the Greece-Turkey Supreme Council, which was due to take place in early 2017 in Thessaloniki, was put off indefinitely.
IBNA understands that the meeting was held in a positive climate with a wide range of issues the interest both sides discussed, such as the refugees/immigration issue, the Cyprus problem, the Aegean Sea and the forthcoming Supreme Council to be held, as the Turkish President requested, in Thessaloniki in October 2017.
Although the discussion began with the issue of the non-extradition of 8 Turkish soldiers who participated in the failed coup of 16 July 2016, with the Greek Prime Minister answering that it is a matter of the independent Greek justice system. At the same time, he stressed that coup plotters were not welcome in Greece and underlined the importance of bilateral cooperation in the security field.
On many issues there was clear willingness of both sides to engage in cooperation and dialogue on open issues.
Alexis Tsipras stressed Greece's clear position of supporting Turkey's European accession course, as long as the neighboring country wants it too, while Recep Tayyip Erdogan expressed his concern about the failure to implement an expressed EU commitment over a visa waiver for Turkish citizens. Referring to the concerns of the Turkish President, the Greek PM stressed that Greece seeks to implement the European Union – Turkey Agreement reached in March 2016.
With regard to the Cyprus issue, there was a difference of opinion between the two sides on the future of the talks and the settlement of the Cyprus problem.
Finally, the two sides discussed some details about the Turkey-Greece Supreme Council, which will probably take place in October in Thessaloniki, outlining the agenda and priorities of this meeting.
According to a Turkish senior official who spoke to IBNA, Recep Tayyip Erdogan particularly appreciates the Greek Prime Minister and the Greek Foreign Minister, and considers Greece's support of Turkey's course for European accession to be very important as is the willingness to engage in dialogue shown by the Greek side.
The Turkish President positively surprised the Greek Prime Minister when he underlined the importance of the Treaty of Lausanne and its implementation, leaving aside the rhetoric of revisionism and controversy over the Treaty that had dominated headlines in both print and electronic press in both countries in recent months.
The Greek Foreign Minister, Nikos Kotzias, the Minister of Digital Policy, Nikos Pappas, and the Secretary General of the Ministry of Foreign Affairs on International Economic Cooperation, George Tsipras, participated in the meeting, which was also attended by Chief of the General Staff General Hulusi Akar, Turkish Foreign Minister Mevlut Cavusoglu, the Ministry of Energy Berat Albayrak, Presidential Advisor, Ibrahim Kalin, and  the Minister of Transport Maritime Affairs and Communications Ahmet Arslan./IBNA