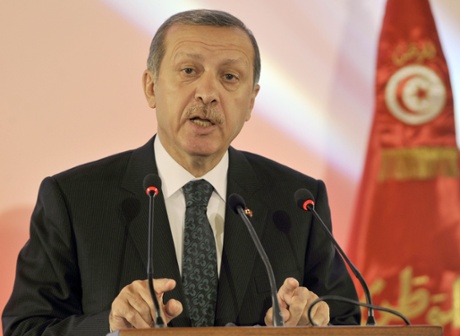 He backs down on his life dream for the presidency
By Manolis Kostidis – Ankara
Erdogan lowers the election expectations stating that he will resign if he does not win the public elections that will take place on March 30.
"If my party does not take the first place in the coming elections, I am prepared to withdraw from politics", Erdogan stated in the press conference with reporters of the local mass media in Ankara.
Political analysts report that the Turkish prime minister, who in the 2011 elections had received 49% of the votes, is realizing the drop in his publicity due to the corruption scandal that shakes the government and for this reason aims only in the first place in the coming elections and not in the high percentages he is used to receiving.
The newspaper Sözcü mentions that Sonar polling company reports that AKP's strength is about 40%, with the Republican People's party around 29%.
Erdogan seems that he is also backing down on the matter of the presidency, since he made another important statement in his private conversation with the Turkish reporters showing shigns he may not become president as he was planning. In the question "if he will become President" he answered that "at this time we do not have something like that on our agenda, but we can continue with the current President". Basically, the Turkish prime minister gave the green light to Abdullah Gul for another term of office.
A few hours later the vice president of the Justice and Development party, Hüseyin Çelik, denied these statements and stressed that Erdogan never said such a thing, denying something dozens of reporters had heard.
"The issue of fighting Gulen's order has now become a state issue and we will proceed with this line after March 30", the prime minister stated showing his intention to eliminate the order's action in Turkey.
Erdogan for the first time admitted that the tepephone conversation that was licked on the internet with him talking to the minister of Justice regarding a trial case and asking him specifically to intervene.
The turksih newspaper Sol revealed that the Head of the big business Group Koç, Mustafa Koç, met with Erdogan in Ankara a few days ago. The said businessman had been in the sight of the turksih government because they though he was supporting the demonstrators in Gezi Park on June 2011.
Immediately after the demonstrations in Gezi Park, dozens of tax audits were performed to companies belonging to the Group, in addition to the cancelation of the tender for the shipbuilding of Corvetes that Koç Group had won. It appears that Erdogan is starting a new round of contacts with business lobbies in order to start fresh as is his desire.