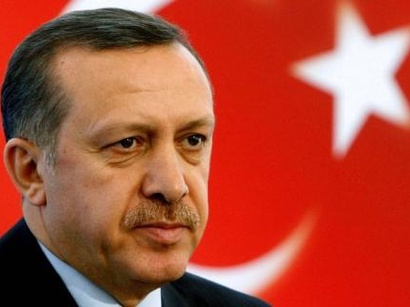 By Manolis Kostidis – Ankara
Te scenarios in Turkey, which state that Erdogan wants to become the next President of Turkey have intensified. The Turkish prime minister in an interview in Baku, during his official visit to Azerbaijan, said he is against changing the three terms limitation laid down in the statute of the Justice and Development Party (AKP). Essentially, if this statute continues to exist, Erdogan will not be able to be elected as an MP in the parliamentary elections of 2015.
Essentially this statement is considered by political analysts as a first sample of the intentions of the Turkish Prime Minister, since if he stays faithful to the statute he will either be elected President or will resign, something so far is considered unlikely.
Erdogan stressed however that will talk with the country's current president, Abdullah Gul,  before he makes any decisions and ruled out the possibility of early election. Gul had stated that he will decide after he talks with Erdogan.
Arinc: "The way to the presidential palace has opened for Erdogan"
More clear regarding the intentions of the Turkish prime minister was the deputy prime minister, Bulent Arinc, who emphasized that "the results of the elections paved the way to Cankaya Palace (presidential palace) for Erdogan. If the prime minister wants to place his candidacy for the presidency, I believe that Abdullah Gul will respect his decision and support him".
In AKP there is speculation, with many senior members emphasizing that if Erdogan was to be elected president without taking the superpowers he would like to have, then it might create a power vacuum in the government, as it will lack a strong "personality" similar to that of current Turkish prime minister.
Erdogan opposes even Turkey's Constitutional Court!
The Turkish prime minister opposed even the country's Constitutional Court's decision of lifting the ban access to twitter. "We implement the decision, but we do not respect it. This decision supports the interests of an American company, which goal is to profit, but does not take into account the interests of our country", he said.
Erdogan also added that the Supreme Court's decision violates Turkey's "national values".
"Our national, moral values ​​have been violated, despite the fact that everything, including insults against the prime minister and the ministers were obvious", he said.
Erdogan is on an official visit to Azerbaijan and is expected to sign important commercial agreements for oil and natural gas.