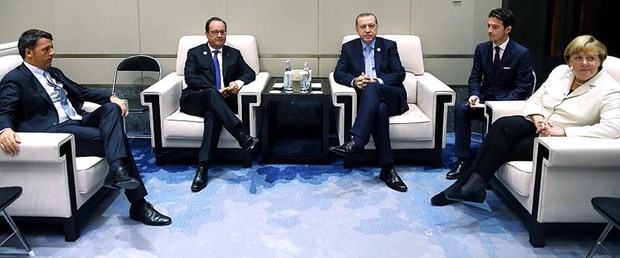 Ankara, September 5, 2016/Independent Balkan News Agency
Meetings with Merkel, Obama, Putin
By Manolis Kostidis
President of Turkey Recep Tayip Erdogan had important meetings at the sidelines of the meeting the G-20 held in China. The Turkish president met Sunday with his US counterpart Barack Obama, and this was the first meeting between the two leaders after the failed coup attempt in Turkey on July 15. Obama expressed his support to the Turkish government. Erdogan on his part expressed his satisfaction "for the support that the US gave after the coup attempt". With this statement the Turkish President broke the conspiracy theories that Washington was behind the attempt coup.
Erdogan also met with Vladimir Putin and discussed the issue of Syria. The Turkish President in a press conference at G-20 revealed that Ankara and Moscow are developing their contacts regarding developments in Aleppo!
The Turkish president also said that "the operation of Turkey in Syria has nothing to do with the unity of Syria which will continue to exist. We interfered close to our borders together with the local people and removed ISIS from our borders. Now we are negotiating for the creation of a no-fly zone in northern Syria. This is what I suggested to Putin and Obama".
Erdogan had meetings with German Chancellor Angela Merkel, French President Francois Hollande and Italian Prime Minister Matteo Renzi and the three leaders discussed the issue of the agreement on the refugee problem, with the Turkish president calling for the withdrawal of visas for Turkish citizens in order to continue to uphold the agreement. Europeans leaders however, ask from the Turkish leader to apply the 72 criteria, among which are changes to the counter terrorist law, which Ankara refuses to make. In the coming months it is expected that an agreement will be reached between the two sides on the matter.