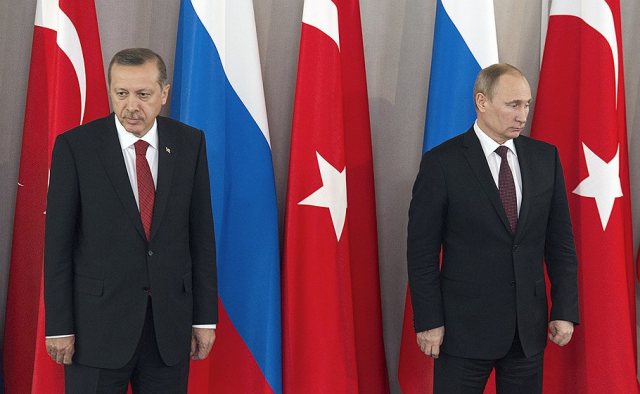 Ankara, October 2, 2015/Independent Balkan News Agency
By Manolis Kostidis
Turkish analysts speak of wrong handlings in the Syria issue
Reflection prevails in Ankara regarding the developments in Syria, although Recep Tayyip Erdogan stated that Turkey will not allow terror to take root, as it will not tolerate unilateral fait accompli situations directly next to its borders.
The president of Turkey and the prime minister Ahmet Davutoglu since 2011 have been aiming at the overthrow of Bashar al-Assad. The recent statement by Erdogan immediately after his meeting with Vladimir Putin, that "perhaps there will be a transitional period with Assad", but Moscow's operations in Syria has caused serious skepticism in Ankara.
The Turkish president was sure of the "correctness" of his policy, when on September 6, 2012, he had stated characteristically that Assad would be gone soon and had stated that "soon, with God's help, we'll go to Damascus and there will hug our brothers (armed opposition in Syria) and together we will pray in the mosque of Emevi".
"The issue of Syria, is as much a growth policy for Russia, as is a retreat and change for Erdogan's Turkey. Erdogan's diplomacy, lived this change, which seems like a "total defeat" in Moscow, from where he returned without getting something from Putin… Napoleon and the Germans had returned from Moscow with a total disaster, and Erdogan on the issue of Syria "put the reverse" and returned from there. The foreign policy of Turkey, which has zero effect, was based on the removal of Assad. Erdogan insisted for some time on this policy. But he was unable to support it in Moscow", Cengiz Çandar writes in Hürriyet.
"In fact the policy of the duo Erdogan-Davutoglu is wrong from its foundation. Because since the founding of the Turkish Republic, the aim was to approach its neighboring countries with the principle of secularism, while their policy is based on Sunnitism (Muslim doctrine). This applies both in the issue of Syria, Egypt and Iraq. That is why at first they did not know what to do with ISIS. This position has caused chaos and Turkey will pay the heaviest price on the issue of Syria", writes Ali Sirmen in the Cumhuriyet.
"The solution to the problem of Syria lies not in Damascus, but in Washington, Moscow, London etc… But the sole winner is Israel", writed Abdurrahman Dilipak in the pro-government newspaper Akit.