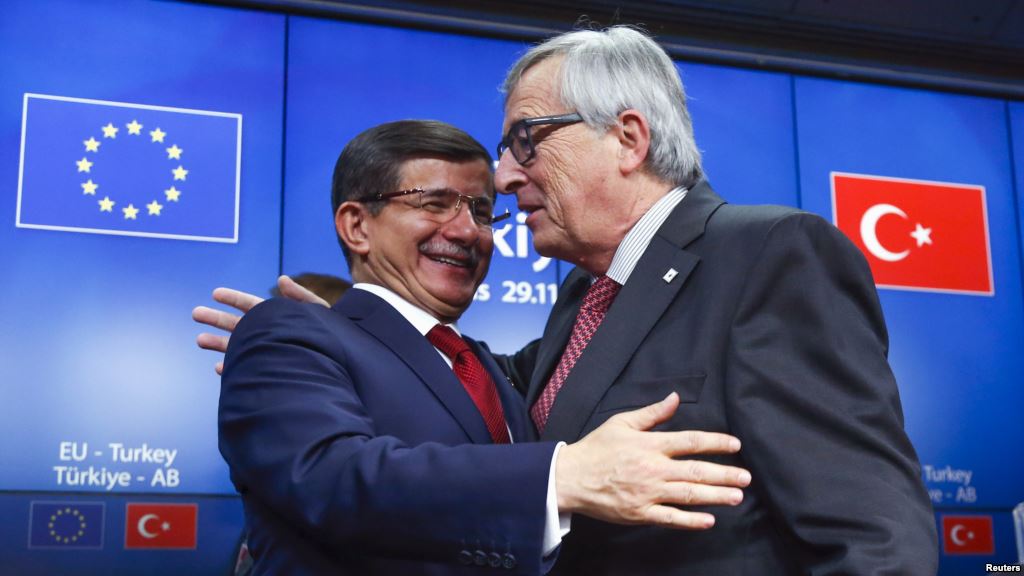 Ankara, April 20, 2016/Independent Balkan News Agency
By Manolis Kostidis
Turkish president Recep Tayip Erdogan described as "provocative" the negative report published by the European Parliament on the accession course of Turkey on human rights and press freedom. He argued once again that "the EU has a greater need of Turkey than Turkey needs Europe".
The Turkish President speaking in the 24th exhibition meeting with mayors (en almost every 15 days he brings together mayors and makes his opinion heard) stressed that "Turkey has undertaken to host three million people a so that the Europeans won't be bothered. What does the report say on the issue? Nothing, and they brought it before us when our relations with the EU are improving
While the Turkish President made these statements in Ankara Ahmet Davutoglu was in Strasbourg to participate in the European Parliament Meeting and meet with President of the European Commission Jean clonic Juncker.
Before leaving for France, Davutoglu had said that in June he expects to start the visa liberalization for Turkish citizens, stressing that "without it one can not expect Turkey to meet its commitments. Our country is a serious interlocutor, has done what it has promised and will not allow concessions to what has been promised".
The answer did not take long to come from Europe. "Turkey must fulfill all the remaining criteria for the Commission to adopt the proposal in the coming months", Juncker said.
The Turkish Prime Minister in his Strasbourg speech promised to abolish the Constitution of the military junta of 1980 and to "bring a democratic, modern Constitution". The AKP has been in power since 2002.
After stating that terrorism is a "common threat", Davutoglu said that his country is hosting the most refugees and all their expenses until now are being covered by the State budget of Turkey.
Today is expected to publicize the first assessment of the European Commission on the state of implementation of the EU-Turkey agreement on the refugee issue.
Before that, the Turkish Foreign Minister Mevlut Çavusoglu had stressed that "the agreement we made with the EU is very clear. We want to stop this human tragedy, we want our citizens to travel without needing a visa and we want to modernize the customs union. If the EU does not honor its word, we will cancel all agreements".