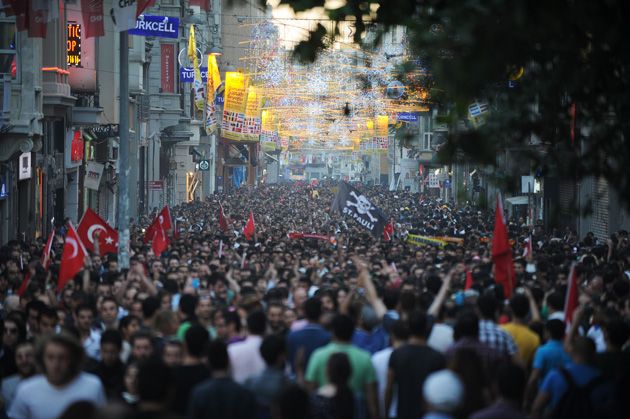 By Manolis Kostidis – Istanbul
Gulen Movement leader attacks him
Speaking from Tunisia, minutes before his return flight to Turkey, Erodgan made clear he isn't backing down from plans to build a shopping center in the Istanbul park were demonstrations first began.
The Turkish premier said: "The deputy prime minister expressed our regret for the tear gas used by police. However, no right van be claimed with illegal actions. I know that there were citizens who were genuinely concerned for the environment. But I persistently talked about extremists. Indeed, I also said there were terrorists group members amongst themAlso involved are members of the known terrorist organization that attacked the US Embassy in the past.  They were spotted in the protests and on social networks".
Erdogan confirmed foreign nationals were arrested and said "seven foreigners were arrested, of which six have been sent to a prosecutor. They did not have a diplomatic passport. Authorities are investigating how and why they were at the protests. It is their duty to examine this and that is what we are doing".
The Turkish Prime Minister pointed out that when his party faced the possibility of being banned, its supporters did not take the streets to create the sort of havoc there is now.
"We will build the Topcu barracks in their old form. Essentially, we will restore a monument that was there. We will the demolish the Ataturk Culture Center to build a new Opera House in its place" Erdogan said, showing no sign of backing down.
Gulen Movement, Fethullah Gulen said from the US where he resides that he blames the government and police forces for their overreaction to the protests. The message is telling of the difference of opinion between Gulen and Erdogan.
Gulen also notes in his message: "If you say there is no right to be claimed you will have a situation where we ignore innocent people and their innocent demands. With such unplanned attacks against angry crowds, the only thing we achieve is to look like hard guys but we are really producing unfairness and violence. We fuel the hate. We create something we can't handle.
Imam Gulen, who for the past 12 years lives in the US, has millions of followers around the world. He owns hundreds of schools in Turkey as well as two television stations. Newspaper Zaman, which he owns, has a circulation of one million sheets.
Gulen is considered very influential in Turkey. During Erdogan's visit to the US, Deputy Prime Minister Bulent Arinc had changed his scheduled in order to visit Gulen at his home.
After the first numbness of Turkish press on protests in Taksim Square, columnists of newspapers have starting to express their opinion.
Mehmet Barlas – SABAH
The Geza Park demonstration and the events that followed is essentially a return to its first days in power for ruling Justice & Development Party (AKP). In its first period in power it resembled an opposition party. Military warnings, attempts to ban the party and "pro-democracy" rallies were staged in an attempt of the deep state to exercise pressure on the AKP. Decisive steps, however, in the last 2-3 years have changed the situation. AKP became a really powerful ruling party and Prime Minister Erdogan emerged as the "only leader".
TARAF NEWSPAPER
Almost all AKP MP's agree the people surrounding Erdogan do not sound necessary warnings. "There aren't experienced people around him, such as Kemal Unakitan, Abdullatif Sener, Ali Goksun. There is nobody left close to him to warn him. Everyone surrounding him is from a younger generation without the experience to advise him when they should", deputies say.
Can Dundar – MILLIYET
They are "generation 88". 20 year olds. They kept quiet and waited for ten years. They said nothing when they were accused of being "generally apolitical and insensitive" youths. Then, in a matter of a few days is May – just as their elders had done – they showed up in the streets, in the park and on television and shouted "enough". Young faces with fresh statements. In only five minutes everything changed.
Mustafa Mutlu – VATAN
Erdogan has two options. He will either not back down and risk the death and injury of thousands of people or he will accept the people's initial demands resisting condescending statements against the masses, in order to quell the protests that have brought him under attack. In all honesty, my hopes are marred by the Prime Minister's behavior so far.