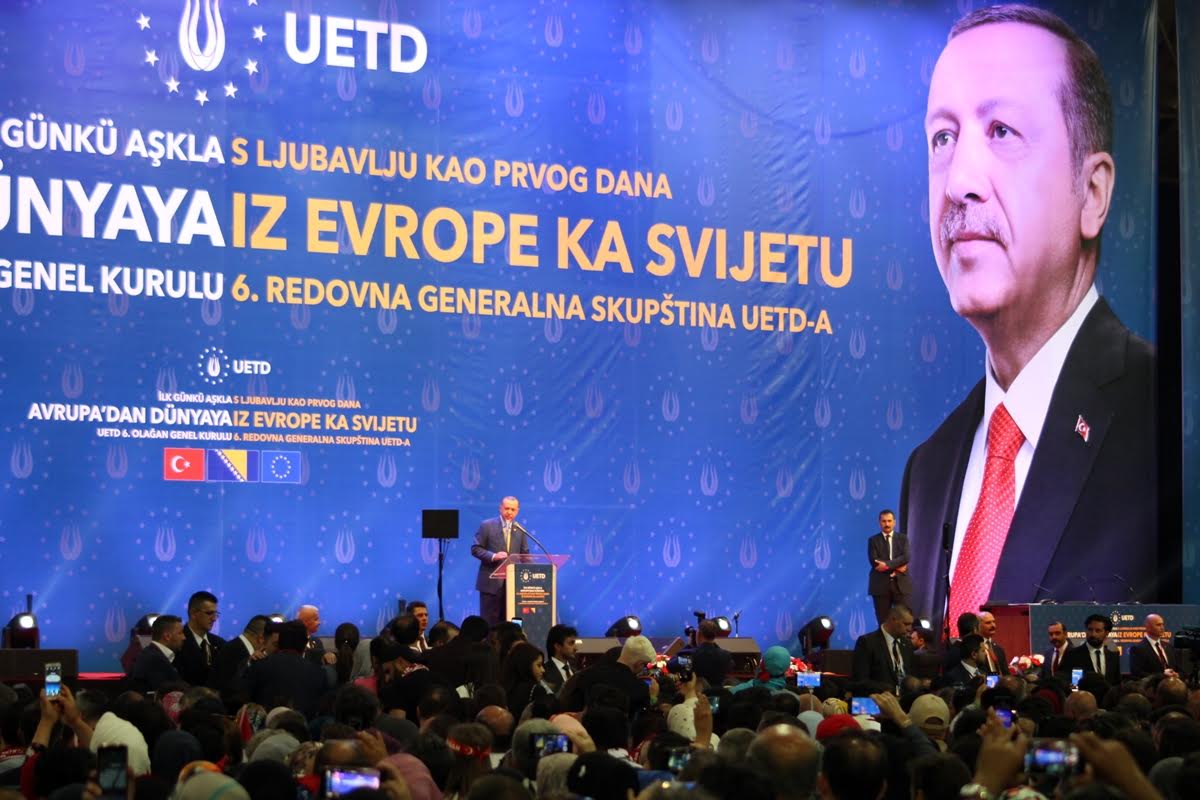 Thousands of Recep Tayyip Erdogan's supporters gathered in Bosnia and Herzegovina's capital, Sarajevo, to demonstrate that the EU countries cannot prevent Erdogan's political rally in the heart of Europe. The euphoric atmosphere in Zetra Sport Hall (officially known as "Sport Olympic hall Juan Antonio Samaranch") reached its zenith when Erdogan, accompanied by the BiH Presidency Chairman, Bakir Izetbegović, entered the packed venue.
Prior to the rally, Erdogan had a meeting with Izetbegović at the BiH Presidency building but from the beginning it was clear that something about this visit was unusual. The visit was planned for June but, on Erdogan's demand, it was rescheduled for May 20, a date that suited both Erdogan and Izetbegović. Interestingly enough there was no state protocol at the beginning of the visit: the other two members of the Presidency, Dragan Čović and Mladen Ivanić did not meet with Erdogan, there was no honour platoon and Erdogan did not show respect to the state flag. Instead of that, the visit was described as a "working visit" with the participation in the 6th General Assembly of Union of the European Turkish Democrats.
The Izetbegović – Erdogan meeting did not result in anything new. As they said after the meeting at the joint press conference, Turkey and BiH want to increase co-operation in all areas. On the sidelines of the visit they signed the letter of intent for the Sarajevo – Belgrade highway construction; the tender is expected to be announced this summer. Also, Erdogan said that there is room to increase the annual import of meat from the Bosnian to the Turkish market from 8 000 to 15 000 tons.
Then, Izetbegović and Erdogan went to the Zetra venue, where the atmosphere was tense but festive. Their arrival was something rarely seen in BiH. In his speech, Izetbegović said that Erdogan was sent by Allah to save the nation. Erdogan gave a typical pre-election speech disclosing what the main purpose of the visit was.
It is interesting that a number of Sarajevo citizens were not delighted to see Erdogan's rally being held in their city. The main reason is that political parties from other countries are not welcome to use the BiH territory to fulfil their political goals.
"Look, the King Fahd Mosque in Alipašino polje settlement, here in Sarajevo, was built on the part of BiH's territory declared a Saudi Arabian territory. We gave them that bit of our country. Now, we rent  another part of Sarajevo for a political rally of a foreign leader of a different country", an infuriated citizen told IBNA.
In fact, Erdogan had a great advantage at this event. First, he showed to the EU that, although he was not allowed to hold a pre-election rally in Europe, a state other than his offered him this opportunity. Second, he gathered a large number of Turkish citizens in one place showing them that he never forgets them and does everything in his power to meet them face to face. Last but not least, he showed to Turkish voters in Bosnia that his power and influence extends beyond Turkey.
For Izetbegović, this event could be either his big victory or his greatest failure. It is uncertain how the Bosniak electoral body will vote for his Party of Democratic Action (SDA). He is not able to be a candidate for another term in BiH Presidency, but his wife, Sebija Izetbegović, is one of the most serious candidates at party elections, for this post.
Other thing is that Izetbegović is trying to find a "protector" for the Bosniak nation in BiH and that could be Erdogan's Turkey. A long time ago, his father, late Alija Izetbegović, had said that he provides Erdogan with Bosnia and Herzegovina as dowry ("u amanet"), in order to take care about the Bosniaks (in the country).
After all, it will be very interesting to see how this event will influence the elections in Turkey and in BiH alike…. / IBNA