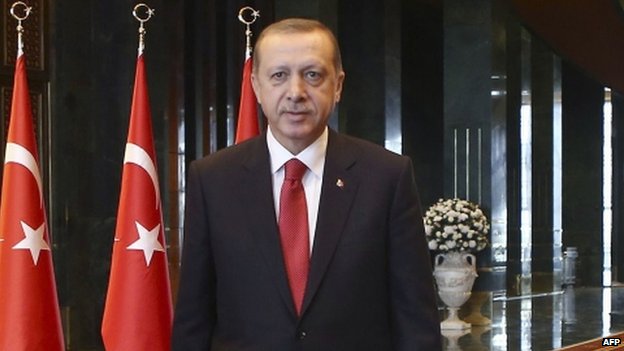 "Now he wants to give us history lessons", write the Turkish columnists 
By Manolis Kostidis – Ankara
Turkish President Recep Tayyip Erdogan claimed that Muslims had discovered America before Christopher Columbus, leaving the participants of the Congress of Muslim religious leaders of Latin America that is held in Istanbul, speechless.
The Turkish President, in his attempt to appear as the leader of the Muslims exaggerated a bit when he said the "America was not discovered by Columbus in 1178, but it already had been discovered by Muslims. In 1178 Muslim seamen had arrived in America. Christopher Columbus in his memoirs says that in the coast of Cuba he had seen a mosque on a hill. That is, pre-Columbian Muslims had set foot in America and religion had spread".
Erdogan also said that in 2015 he plans to visit Cuba and speak with the competent authorities to build a mosque on a hill of this country.
"Erdogan, except from president, aircraft designer, palaces architect and ethics police, in his resume adds the capacity of the great historian! However, there is no mention of a mosque in Cuba in any of Colombus' books", writes the columnist of the newspaper "Cumhuriyet", Aydin Engin.
The Turkish humorous website "Zaytung.com", which is being read by millions of Turks, commented that "Erdogan after the discovery of America has now set his eyes on Africa! The news that Cuba is not a continent, but the island, has caused shock to the ruling AKP Party".
The first Congress of Muslim religious leaders of Latin America took place with the initiative of Turkey and is considered an attempt by Ankara to influence the region.
Until recently, the role of Islamist-Turkish influence abroad had the Islamic Order of Chizmet of Fethullah Gulen, but after the Gulen-Erdogan conflict, it seems that Ankara has assumed such initiatives by itself.
Photo: BBC.com