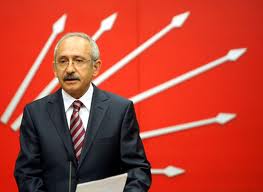 By Manolis Kostidis
A compensation of 450,000 euros -1 million Turkish Liras – is claimed by Recep Tayyip Erdogan, from the leader of the main opposition, Republican People's Party, Kemal Kılıçdaroğlu, for insulting his personality as he was compared to Assad!
Erdogan's lawyers have already filed a lawsuit at court in Ankara.
Kılıçdaroğlu has stated, in a meeting of the Socialist Party of the European Parliament in Brussels, that the Turkish Prime Minister is very similar to the leader of Syria Bashar al-Assad and had accused him as being responsible for the bombings in the city Reychanli where 51 people were killed.
"Erdogan is the killer of 51 people in Syria. The only difference between Assad and Erdogan is the way they speak. They are both pushing the people. They both exert pressure on the media. They both have special courts, special judges, special prisons. They both say to the owners of the media to keep one employee and fire the other. What is the difference from a democratic standpoint? "stated Kılıçdaroğlu.
Erdogan announced that if he wins the lawsuit and he receives compensation, he will distribute food or something something similar at the Sultanahmet Square in Istanbul.
The quarrel between the two leaders culminates as the opposition is against the foreign policy pursued by the Turkish government in Syria. Kemal Kılıçdaroğlu has stated repeatedly, that Ankara should not support the Syrian opposition so seamlessly and keep the balance in the region as they have done for decades now.
The bombings in Reychanli in May, 11th, where 51 people were killed after two cars having exploded, caused skepticism about what is happening in the 951 km southeast Turkey's border with Syria and according to the opposition armed islamist rebels and "terrorists", as they are called, cross the border without any control.