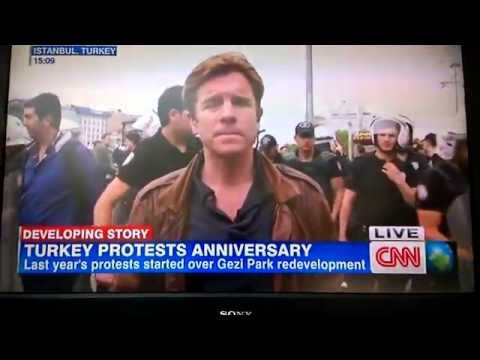 By Manolis Kostidis – Ankara
The Prime Minister Recep Tayyip Erdogan does not stop attacking those related to the demonstrations in Gezi.
This time he called the reporter of the television network CNN in Istanbul, Ian Watson, "a slave of CNN, who was performing a specific task. Last year he did an 8-hours non-stop broadcast. He was performing a specific task. Now he is caught on the act. He is an agent".
The Turkish Prime Minister during his speech to the parliamentary group of his party attacked this specific correspondent , who had been taken into custody for one hour on Saturday. Earlier he had been arrested during the live connection from Taksim Square, while he was covering the anniversary of the anti-government protests in Gezi.
The U.S. television network was not slow to respond to Erdogan's accusations, stressing that "it supports the way the events in Turkey were covered, which was fair, impartial and based on facts and will continue to be so".
Erdogan once again spoke against to those who demonstrated last year in the Gezi park and to those who tried to protest this year.
"They are people who wanted for events to take place in Turkey similar to those that happened in Ukraine", he said.
YouTube functions again in Turkey
On Tuesday night, the Turkish Telecommunications Commission gave the go ahead for free access to YouTube, which had been banned since March 27.
Up until it was banned, sound documents that were the products of illegal wiretapping where being uploaded to this website, which highlighted the corruption in Erdogan's inner circle, as well as the authoritarian way with which the Turkish Prime Minister operates.