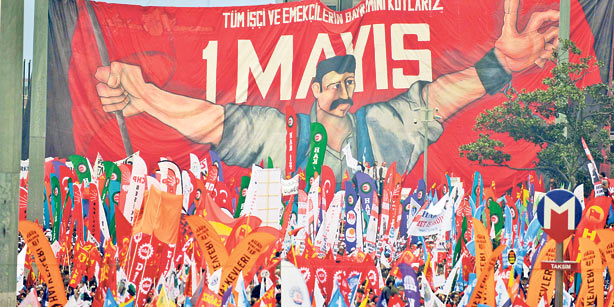 By Manolis Kostidis – Ankara
Tension is expected in the next few days in Istanbul on the occasion of the celebration of Labor Day. The Turkish Prime Minister Recep Tayyip Erdogan, with his statements to the parliamentary group of his party stressed that the government will not allow the celebration of Labour Day in Taksim Square in Istanbul. In this square, in June 2013 there had been clashes between police and protesters in Gezi Park.
"Do not you have any hope for Taksim Square; go to demonstrate in other parts of Istanbul where public gatherings will be allowed", said Erdogan.
"There is no obstacle to the celebrations, but they must take place at predetermined areas. We need to stop playing like spoiled children. We will not allow the roads to turn into areas of conflict. The people do not want it. They do not want to see scenes on the street where the protagonists will be stones, batons and Molotov cocktails", said the Turkish prime minister.
The Turkish government proposes that next week's demonstration takes place in a special area on the outskirts of Istanbul, and not downtown.
However, the same ruling party in 2008, 2009 and 2010 had allowed the conduct of demonstrations in Taksim Square, which is a symbol for the unions of Turkey. Between 1977 and 2008 the gatherings to celebrate the Labour Day in Taksim Square, were prohibited.
The unions want to honor the memory of the 33 people who were killed on May 1st 1977, when strangers opened fire against the crowd who were attending the gathering. They never found the perpetrators of this attack.
The president of the pro-Kurdish Party, Selahattin Demirtas, said the Kurds on May 1 will celebrate in Taksim Square.