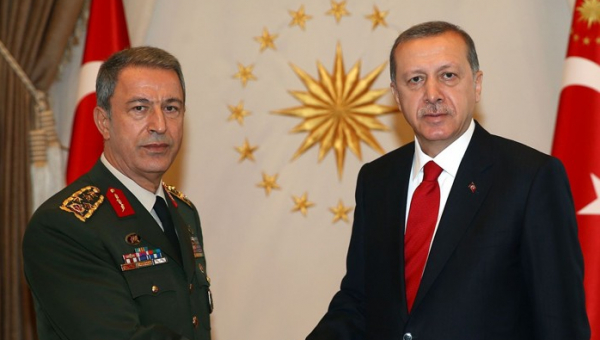 Turkish President Recep Tayyip Erdogan called an emergency meeting at the presidential palace on Monday afternoon.
The meeting was attended by the Chief of the Turkish General Staff Hulusi Akar and Turkish Defence Minister Fikri Isik.
Ankara said that the meeting was called following the publication of an article in Saturday's Hurriyet newspaper, entitled "The General Staff is troubled".
Erdogan and his staff perceived the article as a warning for a coup. In the newspaper article there are answers by the Staff to various questions as well as accusations politicians have made against it. Among those issues was the liberation of the Islamic headscarf, the course of the operation in Syria etc.
Turkish Prime Minister Binali Yildirim has already stated that "the article is a result of some who believe that the military establishment still continues"
The prosecutor in Istanbul has already started an investigation against the major and reliable Turkish newspaper. The Turkish Justice Minister Bekir Bozdag said "nobody can give orders to the Turkish government and parliament. The command belongs to the people only. This Turkey is not the old Turkey. The years when intimidation of the Turkish people and the government could be achieved with a front page have been left behind."/ΙΒΝΑ