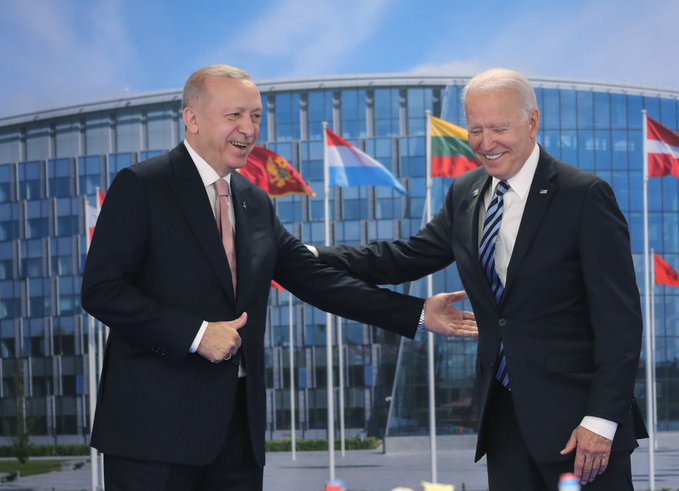 Turkish President Recep Tayyip Erdogan met with US President Joe Biden on Monday after the end of the NATO summit in Brussels.
The one-on-one meeting took place at NATO headquarters and lasted 45 minutes. The two leaders met for the first time since Biden took office in January.
This was followed by extended talks between the two delegations which lasted 40 minutes.
The meeting was attended by Turkish Foreign Minister Mevlut Cavusoglu, Defense Minister Hulusi Akar, Communications Director Fahrettin Altun, the representative of the President Ibrahim Kalin, Omer Celik the representative of the Turkish Justice and Development Party (AKP), and Turkish Ambassador to Washington Murat Merkan.
Both the US President and the Turkish President expressed their optimism in the press conference they gave after their meeting.
"We had a positive and productive meeting, much of it one on one," Biden said.
"Our groups will continue our discussions and I am confident that we will make real progress with Turkey and the United States," he added.
For his part, Erdogan described the talks with the US President as "productive and honest."
"We believe that there are no unresolved issues in US-Turkish relations and that the areas of cooperation for us are richer and bigger than the problems," Erdogan said./ibna