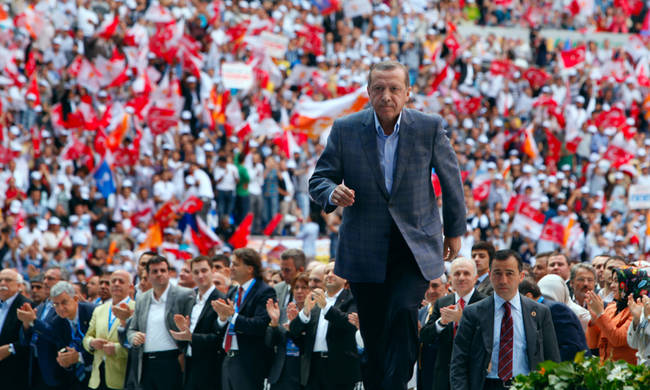 New era for Turkey with the opposition fearful of worst days to come
We start the new system of governance in our country, said Recep Tayyip Erdogan in his speech from his presidential residence in Istanbul, shortly after his victory was confirmed. Tens of thousands of Turks took to the streets of Istanbul and Ankara to celebrate the victory of the Turkish president.
Erdogan has promised to make Turkey one of the world's biggest economic powers
The election victory was beyond the expectations of the Turkish president's associates. Recep Tayyip Erdogan received nearly 10 million votes more than his main rival Muharrem Ince in the presidential and parliamentary elections. With 99,8% of the votes counted, the Turkish president emerges as the triumphant winner of the elections with 52.4%. Muharrem Ince follows with 30.7%, Selahattin Demirtas 8,2%, Meral Aksener 7.4%, Temel Karamolaoglu 0.9%, and Doge Perincek 0.2%.
An impressive element of these elections is that the participation rate has reached 87%
In Parliament, however, the ruling AKP will not have self-reliance and will be forced to ally with the Party of Nationalist Action (MHP). Its rates are much lower than the presidential election. The AKP received 42.4%, CHP 22.7, MHP 11.2, the Democratic Party of the HDP, despite the difficulties in their election campaign and with Demirtas in the prisons of Adrianople managed to overcome the 10% threshold and gained representation in the House with 11,5%.
The victory in the presidential election is believed to have been achieved in Istanbul where Erdogan held 9 pre-election rallies in two days. The Turkish president received 50% of the votes in that city, while in 2017 in the referendum he had received 48.3%. The same success was in Ankara where he received 51.9% while in 2017 he had received 48.6% of the votes. What's impressive is that these percentages increased, despite the fact that a few months ago Erdogan had deposed of the AKP elected mayors.
The question is from now on what will be the results of the cooperation of Recep Tayyip Erdogan with the Nationalist Devlet Bahçeli, who may become vice president!
However, experienced analysts estimate that the agenda of the Greek-Turkish relations will not change since it all depend on Erdogan.
Since Sunday night, much has changed in Turkey as the Turkish president is permanently changing the country's governance system that will give him overwhelming powers come Monday. A system that the opposition says will lead Turkey into an authoritarian state./IBNA