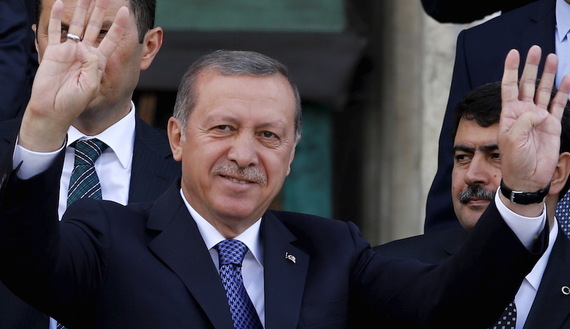 Ankara, May 31, 2015/ Independent Balkan News Agency
Erdogan called the New York Times a "trash brochure"
By Manolis Kostidis
Five hundred men dressed like Janissaries greeted Recep Tayyip Erdogan during the festivities that marked the 562th anniversary of the Fall of Constantinople, which for the Turks is a celebration.
The whole scenery was reminiscent more of the Ottoman Empire and less of a modern Turkey.
Erdogan organized this event on May 30 instead of the 29, which is the day of the Fall, in order to gather more people a week before the elections on June 7.
Throughout his speech to a crowd of hundreds of thousands of people he said that the Turks have to work and be educated like Muhammad the Conqueror. His political opponents say that the Turkish president didn't make a notable reference to the founder of the Turkish Republic Kemal Ataturk.
As the "Sultan of the Bosphorus" addressed Erdogan the announcer during his appearance on stage and likened him to Muhammad the Conqueror by saying, "here comes the one who made trains pass under the sea", by making a reference to the Marmaray undersea train tunnel that was completed in 2014.
To motto of this festival was "The Fall (of Constantinople) and the Rise of a nation" and everything pointed to an effort to revive the Ottoman past.
Erdogan in his speech attacked the New York Times, calling them a "trash brochure". The American newspaper has claimed that the Turkish President rules the country with anti-democratic methods.