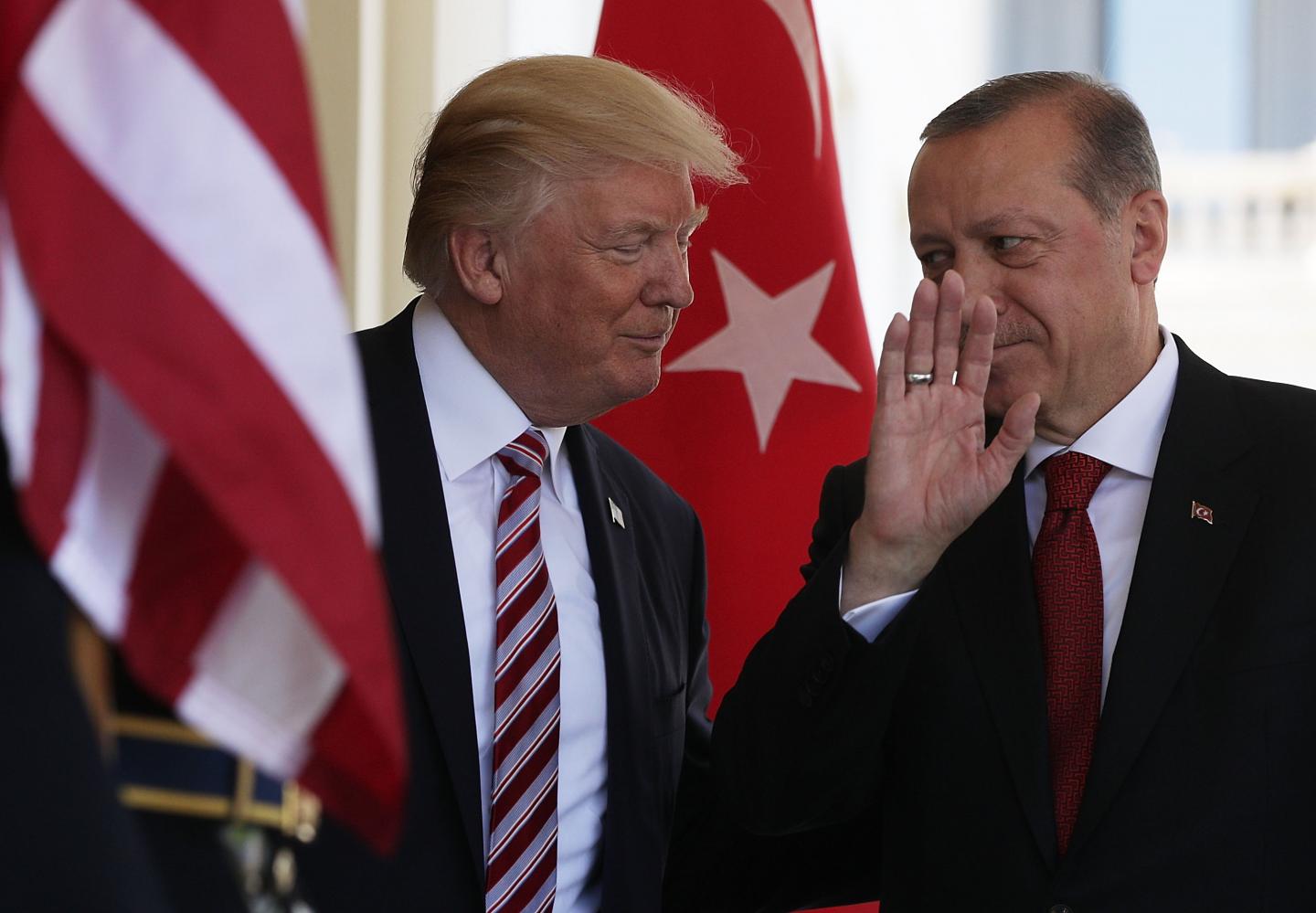 The Turkish president, Recep Tayyip Erdogan and his American counterpart, Donald Trump held a phone conversation over the Saudi journalist, Jamal Khashoggi's case.
Early on Monday morning, Turkey's presidential press office said the two heads of state agree the case needs to be cleared up with all aspects.
The 60-year old journalist from Saudi Arabia was last seen entering the Saudi consulate in Istanbul, on October 2, which he visited in order to obtain papers he needed for his marriage.
After days of denying to know a single detail of his whereabouts or whether something had occurred inside the consulate, on Friday, October 19, Riyadh admitted  Khashoggi died in a "fistfight" inside the Istanbul Saudi consulate.
As reported by Anadolu, "On the day of Khashoggi's disappearance, 15 other Saudis, including several officials, arrived in Istanbul on two planes and visited the consulate while he was still inside, according to Turkish police sources. All of the identified individuals have since left Turkey."
The Guardian reads: "The Saudi regime also announced a purge of senior officials including Saud al-Qahtani, an influential adviser to Crown Prince Mohammed bin Salman, and General Ahmed al-Asiri, a senior intelligence official. Both men have been fired. Eighteen Saudi nationals were said to have been arrested."
The international uproar caused over the journalist's… disappearance -a professional who was publicly criticising the Saudi leadership and was known for his progressive stance, which, after all led him to self exile in the U.S.- probably pushed Riyadh 'admit defeat' and reveal what took place.
At the end of last week, Turkish and Saudi specialists had investigated both the residence of the consul general as well as the Saudi Consulate in Istanbul.
Still, officially, Turkey's head has not spoken about the case. He is expected to do so on Tuesday, when, according to information he will reveal the "naked truth" about the dissenter's killing, during AKP's parliamentary group meeting.
Anadolu news agency also refers to sources who said that during the phone discussion, Erdogan and Trump talked about the recently released from house arrest (in Izmir-Turkey), American pastor Andrew Brunson, their bilateral co-operation in fighting terrorism and the roadmap on Syria's Manbij province.
The European Union's response to the latest revelation
On Saturday, a day after the Saudi side spoke of the Khashoggi killing at last explaining it took place inside the consulate premises, the High Representative spoke on behalf of the bloc with a declaration.
Among other things, it was said that "The emerging circumstances of Jamal Khashoggi's death are deeply troubling, including the shocking violation of the 1963 Vienna Convention on Consular Relations and particularly its Article 55.
Therefore the European Union, like its partners, insists on the need for continued thorough, credible and transparent investigation, shedding proper clarity on the circumstances of the killing and ensuring full accountability of all those responsible for it. The memory of Jamal Khashoggi, the family of the journalist as well as his friends deserve justice."
Since Jamal Khashoggi's death could be immediately linked (unless proven otherwise) to issues of press freedom the declaration also read:
"We reaffirm our commitment to the freedom of the press and the protection of journalists across the world."…. / IBNA
Main Photo (File): U.S. head Donald Trump (L), Turkish president Recep Tayyip Erdogan