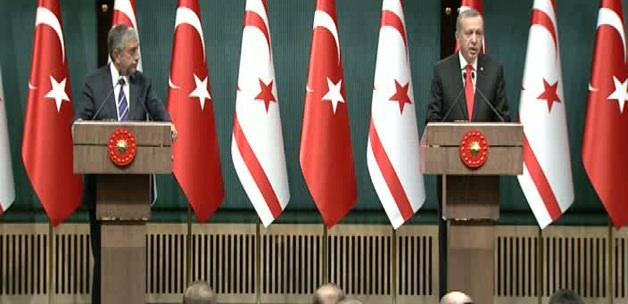 Ankara, May 6, 2015/ Independent Balkan News Agency
By Manolis Kostidis
The newly elected president of the Turkish Cypriot Mustafa Akinci visited Ankara and met with Turkish President Recep Tayyip Erdogan and Prime Minister Ahmed Davutoglu.
The meeting between Erdogan and Akinci took place "in the shadow" of the conflict at a level of statements that erupted last week between the two men.
Akinci, both during his election campaign and immediately after his election with 61% in the April 26 election, had stated that "Turkey must stop being the motherland of the Turkish Cypriots and start building equal and fraternal relations between the two sides".
Turkish President had reacted strongly and had stated that "Mr. Akinci must listen carefully to what he says and that Turkey is the motherland and will remain so".
However, in the joint statements made after the two-hour meeting between the two men, Akinci avoided to make a reference to his previous statements, but stressed many times that the solution must be found between Greek and Turkish Cypriots.
The Turkish President said that the Cyprus issue is "a National Issue for Turkey and will support all legitimate rights of the Turkish Cypriots". Erdogan called on Greece to contribute to the efforts to resolve the Cyprus problem. He recalled the project of water transfer by underwater pipelines from Turkey to Cyprus and thus wanted to show the "weight" of Ankara in the occupied territories.
Akinci expressed his hope for a resolution even in 2015. "But I'm not a magician, both sides must understand that the solution is a common need. We need both sides to think about the common good", he said.
The President of the Turkish Cypriots said that "the natural gas, instead of being something that separates us may bring us closer. Both Turkey and Greece and the UK can work for the common good".
After the joint declarations Erdogan ended the press conference, without accepting questions.