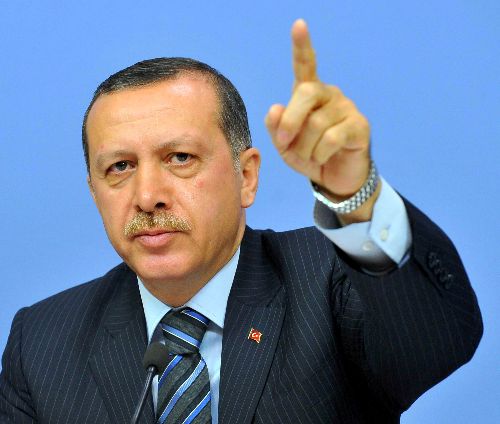 By Manolis Kostidis – Istanbul
"I will not be held accountable to anyone other than Allah and certainly not to extremist organizations. Only the people decide and everything will be settled in elections." With these words, Recep Tayyip Erdogan began his speech upon his arrival in Ankara where thousands of supporters greeted him after eight days away from Turkey.
His speech resembled a campaign rally as he told protestors: "Instead of taking to the streets and burning everything be patient. In seven months at the local elections we will face each other."
The Turkish Prime Minister shows no sign of backing down to reduce tensions in Turkey, instead, his comments – often on sensitive issues for Islamists – deepen divisions.
"Demonstrators attacked women wearing head scarves, and, as if this wasn't enough, stormed the Dolmabahce mosque without removing their shoes while holding beer bottles" the Turkish Prime Minister said, causing his supporters to shout fanatical Islamic slogans.
Erdogan continues to call protestors "looters and terrorists".
"We don't do what the looters do. They destroy and burn down everything" the Turkish premier said in his speech in Adana. "They murdered one of our policemen. We will not surrender our policemen to them. Did they expect us to hand over Taksim to anarchists and terrorists?" Erdogan added.
Absolute division
This isn't my youth
Erdogan seems to disregard the view of several of his party members that polarization in Turkey should stop.  In a speech in Mersin, he separated the country's youth saying "youths that swear at the Prime Minister are not my youths. The young people who write slogans on walls cannot be my young people. Those who invade stores and shopping centers are not my youth."
Erdogan urged his voters to "spoil the protestor's plans" and asked for "punishment" in the elections. "I ask one thing of you. In seven months we have local elections. I want you to give them a democratic lesson. You will also give a lesson to those who write false news stories because some can't come to terms with Turkey's growth".
Erdogan launched the pre-election period ahead of local elections in March 2014. In August 2014 the Turkish Parliament will elect a new President.
"George Soros wants to overthrow me."
The Turkish Prime Minister maintains "protests and clashes in the last 12 days in Turkey are part of a political coup, supported internationally", in what is considered a reference to George Soros.
Pro-government Turkish daily Yeni Safak gave a detailed report of Erdogan's address to his party's Executive Committee which met last Saturday in Istanbul.
According to the newspaper, Erdogan stressed that these are strange times and said "everything began after visiting Obama in the US. Economic data in May were the best in the history of the Turkish Democracy. If trouble didn't start because of 10 or 15 trees, they would have pressed the button for some other issue".
According to the Turkish newspaper, the premier argued "behind the incidents hides the interest rate lobby, George Soros and his connections in Turkey"!
Erdogan reportedly believes "the interest rate lobby and its international connections attempted to stage a political coup by turning the streets into war zones. We blocked the attempt of a political coup. Now we will hold accountable those inside and outside of the country who staged the attempt."
European Union Minister, Egemen Bagis sees the same conspiring centers lying behind the demonstrations. Bagis stated "some centers are uneasy because Turkey doesn't offer them the same super-profits. Horses don't die because dogs wish them dead. Turkey's growth will continue and they won't be able to stop it."