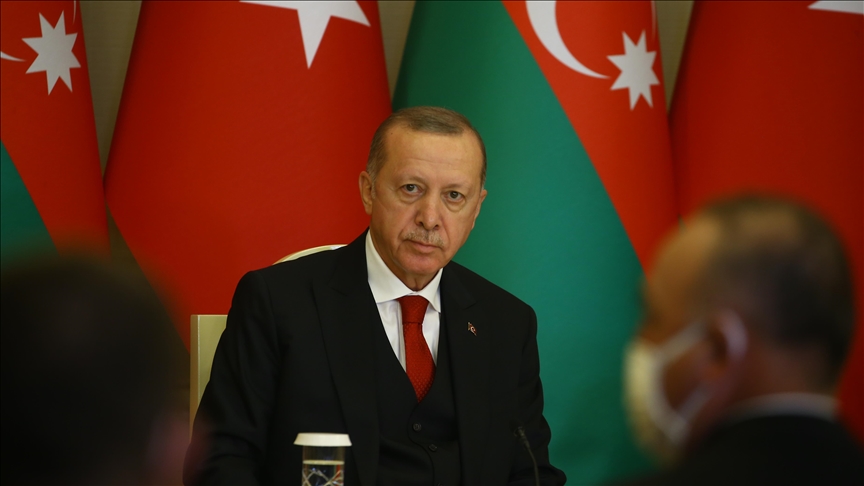 In his remarks after Friday's prayers on Greek Foreign Minister Nikos Dendias' visit and the joint press conference with Mevlut Cavusoglu, Turkish President Recep Tayyip Erdoğan said:
"Our meeting really took place amid a very nice atmosphere. However, things took a completely different turn during their meeting with our Foreign Minister. Of course, faced with Dendias' behavior, our Foreign Minister put him in his place. He could not have used a gentler approach. And this, first and foremost, would not reflect well on us as a nation. They finished the job by showing the right approach and making the right call," said the Turkish President.
He went on to stress that "of course we do not approve of it. On the one hand you have the accession process and on the other hand there is the work between Turkey and Greece. I also told him that we should not let third parties come between us. That is, the EU. They should not be allowed to participate. We are two neighboring countries with very different approaches because of our history, who enjoy a close relationship. And that means something.
Likewise, your bonds with us remain intact. For example, you arrived in Istanbul yesterday and met with the Patriarch and those who represent our Greek citizens here. And we see it positively, but for some reason you do not treat our 150,000 fellow citizens, ethnic Turks, in Greece as much of [your] citizens as they should be."
"Moreover, as is the case with the chief mufti, you still insist on appointing the chief mufti yourself. The Treaty of Lausanne does not give you the right to appoint a mufti in your country. How can you do that? We do not appoint the Patriarch. Who appoints the Patriarch? The council of the Holy Synod does. The assembly of the Holy Synod comprises only our citizens. Look, they were numerically fewer in terms of citizenship. So we gave them citizenship, and the number was so low, about seven. They reached the required number again. They achieved a certain threshold. And now the council of the Holy Synod elects the Patriarch."
"Who will choose the great mufti in Greece? Our mufti there, our imams, etc. Unfortunately, Greece cannot tolerate this situation. And it does not bestow such powers to our mufti there, to our imams there, and appoints them as if it were their own official. First of all, it is contrary to international law. And it tarnishes our relationship. This needs to be rectified, but unfortunately we have been talking to all the governments that have been coming and going for years, to no avail. We just hope to receive it from now on, but unfortunately it doesn't look like it.", Recep Tayyip Erdogan noted. /ibna