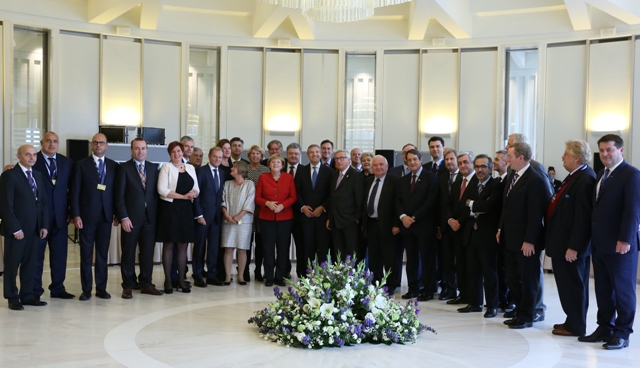 Tirana, 21 October 2016/Independent Balkan News Agency
The European People's Party (EPP) Summit was held in Maastricht, Holland. A special place in this Summit was given to what is considered to be as a state of emergency concerning the cultivation and traffic of drugs in Albania.
This development has turned into a concern for EU member countries, as it was pointed out in the discussions held in the Summit by representatives and leaders of European institutions.
The leader of the Albanian opposition, Lulzim Basha, was present in this summit. Basha expressed his concern that revenues coming from drug money will be used, as it happened in the 2015 elections and the elections in Diber, to purchase votes. Therefore, Basha demanded from EPP to guarantee free and honest elections in Albania.
After the summit, Mr. Basha talked to IBNA on the discussions there. He said that the problem with drugs, crime and their ties with politics are now at the focus of the attention of the European Union. "Unfortunately, one of the topics that dominated this summit was Albania, the problem with drugs, crime and the consequences that this has for the stability, democracy in Albania and the regional stability and European one".
Basha said that he not only presented the situation, with drugs, which he considered as serious, but information was also given by personalities who were present in the summit. "From president Daul, representatives of the Commission, etc, they all gave information which attracted much attention and became subject of a detailed discussion".
Basha draws a conclusion that "it is clear that what Rama's government tries to conceal and deny within Albania, has crossed every border and has turned into an international problem".
But what is the solution that Mr. Basha suggests? He answers: "The solution requires political will, which the Democratic Party, the opposition and I, have. This is why we ask for support to offer the necessary conditions for free and honest elections".
Basha says that the failure to apply the law on decriminalization concerns Edi Rama's project to use criminals and traffickers to deform the will of the votes in the next elections.
Therefore, he warns that the opposition will not enter the elections which are expected to be held next June, if the current government doesn't leave: "The situation is dramatic and requires dramatic measures. Edi Rama's departure is a condition to guarantee free and fair elections and a condition for the victory of an alternative which, instead of collaborating with crime and drugs, will obliterate them and will give way to the European perspective".
***
Mr. Basha's reiterated warning not to enter the elections without the resignation of the current government has not been commented so far by any of the cabinet members and by PM Edi Rama himself. /balkaneu.com/