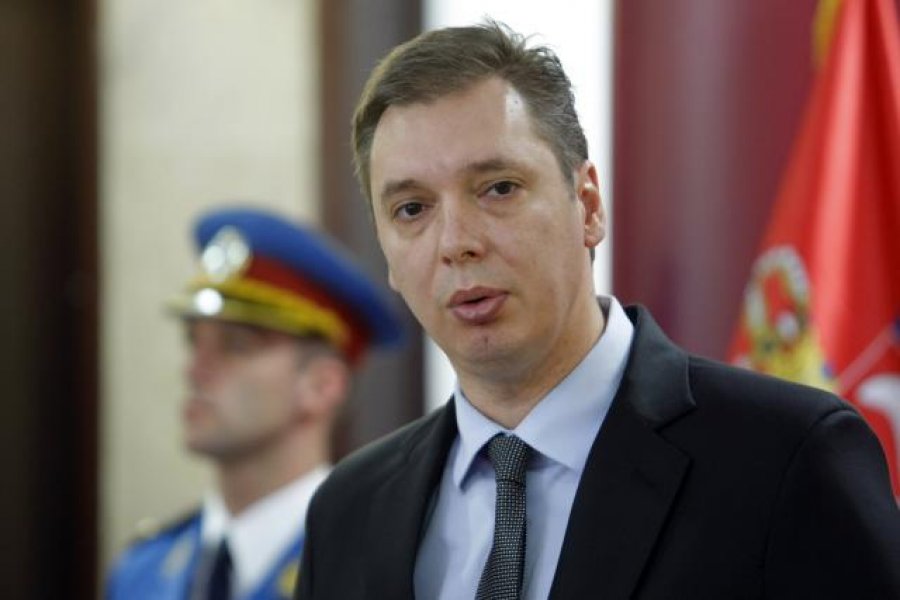 By Milos Mitrovic – Belgrade
The resolution about the Serbian Radical Party leader adopted by the European Parliament is offensive for Serbia as well as annoying and disappointing for its citizens, Prime Minister Aleksandar Vucic said on Thursday. Commenting MEP's decision which has been done few hours earlier, Vucic added it wasn't easy for him to use harsh words to describe EU legislators.
Following the initiative of Croatian MEP's, EP has stated in its document that Serbia has failed to react legally or politically on Radical's leader Vojislav Seselj "hate speech" after his recent release from the International Criminal Court for the Former Yugoslavia (ICTY) detention center. Seselj has been temporarily freed allegedly due to his poor health, but trial over his alleged involvement with the war crimes that took almost 12 years has left room for speculations.
Rasim Ljajic, head of Serbian government's team for cooperation with the ICTY said that Seselj has been released because judges did not know what to do with him. Labor Minister Aleksandar Vulin believes that he was freed in order to destabilise the political situation in Serbia.
Immediately after being released, Seselj has given explosive statements such as "I was happy to hear that Zoran Djindjic has been murdered". Djindjic, first Serbian democratically elected Prime Minister after the collapse of authoritarian regime of Slobodan Milosevic, has been assassinated shortly after Seselj surrendered to the ICTY in 2003.
Considering Croatia, Seselj reiterated his well known position on Greater Serbia that would, in accordance with his ideology, encompass a large part of Serbia's neighbor country. On November 17 when Croatia commemorates its 1991 war victims, Seselj congratulated "Serbian chetniks liberation of Vukovar". These statements have triggered Croatian initiatives on adopting resolution on Seselj both in Croatian parliament and EP.
PM Vucic said at the media conference that EP has "opened door to hatred, xenophobia, and ghosts from the past rather than for healing the wounds. Serbia will be committed to reconciliation and regional stability but it will never accept lies, hypocrisy and collective responsibility".
At the same time he thanked some of the MEP's from Bulgaria, Slovakia and Slovenia who tried to "bring their collegues to reason".
Slovak EMP Eduard Kukan, who is also head of EP's group for Serbia, has said that the resolution increases tensions in the region rather than calming them down.  "I completely understand the evil of war rhetoric and hate speech especially in the Western Balkans", Kukan said adding, however, that the document overestimates Seselj's importance.
Seselj's party, which played an important role in Serbia in 1990's, is now a non-parliamentary group.
"Today Serbia has been condemned because "it did not adequately reacted in political and legal sense" on Mr. Seselj's arrival. But who has released him, we or you?" PM Vucic said stressing that ICTY did not consulted Belgrade on his release, including preconditions for it.
"This is an unimaginable hypocrisy or intention to harm Serbia from unknown reasons", Vucic said adding that "there's nobody" able to link the Serbian government with Seselj.
According to Vucic, EP's resolution is the result of the intention to degrade Serbia's reputation in Europe and the world. He said that Serbia has better perspectives than some countries in the region which cannot accept this, obviously alluding to Croatia.
"We should not allow ourselves to take democracy lessons from those who are not capable to protect ten plates in Cyrillic alphabet", Vucic concluded recalling Croatia's failure to implement the law on ethnic minority rights, a regulation which stipulates that minority groups, including Serbs, have a right on putting tables in public administration buildings in their letter.
Croatian war veterans supported by some political parties have repeatedly destroyed Serbian Cyrillic plates on the buildings in Vukovar, eastern Croatia.