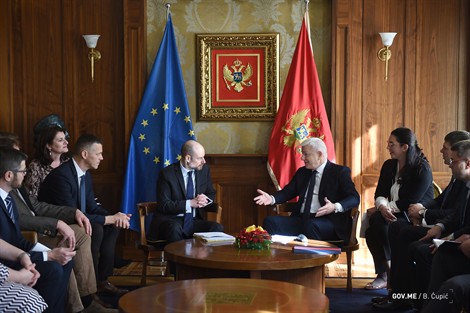 Prime Minister Duško Marković hosted a delegation of the European Parliament led by the Chairman of the Committee on Civil Liberties, Justice and Home Affairs Vladimír Bilčík, according to a Montenegrin government announcement.
The Montenegrin Prime Minister informed the EP delegation about the Government's strategic policies, excellent economic indicators, which include, among other things, excellent economic growth, among the leading ones in Europe, high level of foreign direct investment, increase in the number of tourists and reduction of unemployment, as well as about European agenda.
"Montenegro understands the European context and works in line with its commitment as a modern country that is being developed democratically and economically as part of Europe", PM Marković said.
Speaking about the situation following the adoption of the Law on Freedom of Religion or Belief and the Legal Status of Religious Communities, the Prime Minister said that the Church in Montenegro places itself above the state, not recognising its sovereignty and independence, and expressing its ambition to decide on political actors or influence the election of government. "This is wrong, unacceptable and intolerable in the civilised world", Marković said. In this context, he expressed the determination of the state authorities to preserve peace and stability, as they have done for the past thirty years, while respecting the freedoms of every citizen, but also maintaining the constitutional and democratic order.
MEPs were also interested in environmental issues, transport connectivity, primarily within the European transport corridors and the Berlin Process.
The EP delegation also met with the Montenegrin Parliament Speaker, Ivan Brajović, who reiterated the willingness of the governing coalition to improve the electoral environment without preconditions and to strengthen citizens' confidence in the electoral process. Highlighting the multi-ethnicity of the civic state as the wealth of Montenegro, the President of the Assembly emphasized that Montenegro is striving to provide strong arguments for further support of the European institutions on the path to EU integration.
MEP Vladimir Bilcik stressed that the European Parliament will continue to strongly support Montenegro's enlargement and accession process to the European Union, given Montenegro's significant contribution to the stability of the region. He expressed his readiness for MEPs to support the Montenegrin parliamentarians in their further process of integration and adoption of European standards. Emphasizing that they fully respect Montenegro's sovereignty to regulate internal religious issues, he stressed his belief that dialogue would lead to the implementation of adopted legal solutions./ibna