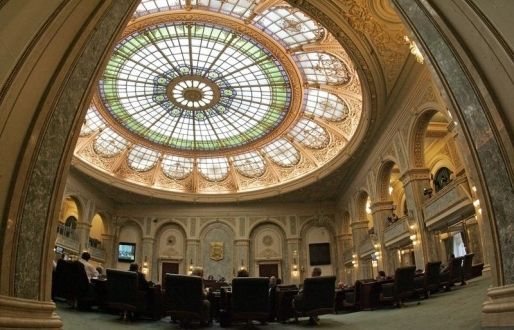 The Senate's legal committee on Monday vetoed the controversial emergency ordinance no 13 that planned to amend the criminal codes and decriminalize certain corruption offenses, including the abuse of office and that prompted wide street protests in Bucharest and the entire counntry in the past month.
The upper chamber's legal committee passed an amendment through which the vetoing law of the EO 13 should have one article, as proposed by the PSD parliamentary group: "The Government's emergency ordinance no 13/2017 is vetoed, by amending and completing the Law 286/2009 from the Criminal Code and the Law 135/2010 on the Criminal Procedure Code."
The amendment was passed by seven votes to four
"It's redundant to say that the EO 13 was repealed, is like saying that it is not known that the emergency ordinance no 14 was not published in the Official Gazette," said the leader of the committee, SocDem Serban Nicolae.
The Opposition had asked that the EO 13 should be withdrawn
The emergency ordinance no 13 is to be debated by the Senate's plenary sitting. Senate Speaker Calin Popescu Tariceanu said that the plenary sitting agenda has been supplemented with the draft law on vetoing the EO 13, while ironically commenting that the ordinance on amending the criminal codes should be "fully murdered", although "it was dead already" to spare from fear the ones who thought 'it still moved'.
Interior minister heard at DNA on EO 13. PM Grindeanu: It's weird
Interior minister Carmen Dan was heard at the National Anti-corruption Directorate on Monday morning in the file on adoption of EO 13. The minister left the DNA headquarters after one hour and a half, telling journalists that she has been heard as a witness.
Last week, the minister for the relation with Parliament, Gratiela Gavrilescu and the Government's secretary general, Mihai Busuioc, were also heard in this case.
PM Grindeanu said on Monday that he finds weird that the DNA prosecutors subpeonaed some of the ministers for hearing in the case of EO 13, adding that the Government has acted legally in this case, a thing that was confirmed also by the constitutional judges. He also said that he has not been called for hearings.
Also commenting on the ministers' hearing on EO 13, Senate Speaker Calin Popescu Tariceanu said that Romania "is unique in Europe", considering that the prosecutor's office is investigating the Government's political decisions./IBNA
Source: romaniajournal.ro