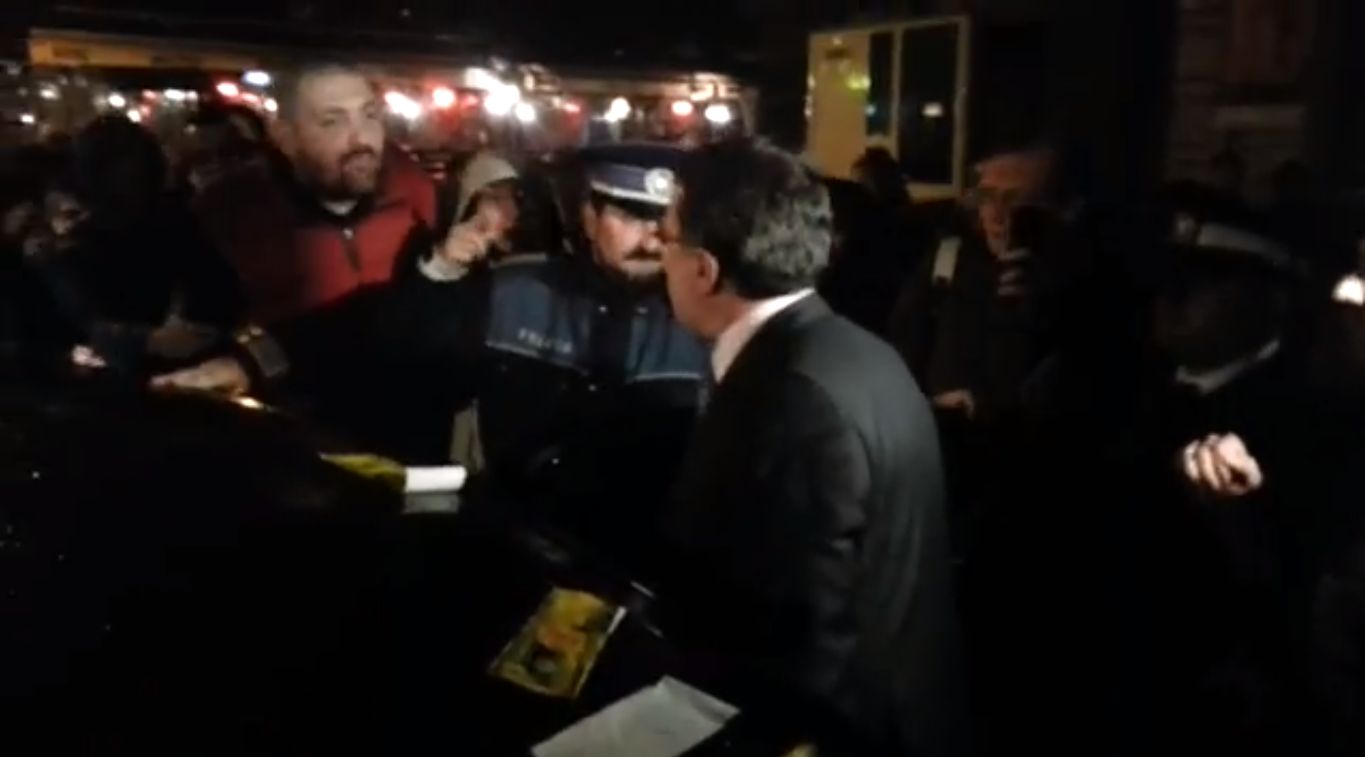 By Daniel Stroe – Bucharest
The Romanian minister of Culture, Daniel Barbu, was last night aggressed and his car vandalized by a group of protesters against the Rosia Montana gold mining project, a worrying development in an already tense climate amid growing environmental protests against the aforementioned project and the shale gas production.
The minister was leaving a debate in Bucharest' old town when he found himself surrounded by a group of protesters. Inside and during the debate he attended, the group constantly heckled the minister, asking for his resignation. A person threw a bundle of fake US dollars with the minister's face on the bills and asked him how much bribe he got, probably referring to the government's support for the gold mining project in Western Carpathians which has stirred up spirits in Romania like never before.
Footage circulated by the Romanian media show the protesters hitting the minister's car with their hands and then breaking the car rear window with stones. The minister comes out of the car and tell the aggressors they are behaving "like neo-fascists" before the police intervenes and escorts the car out of the raging crowd. Three protesters were later detained for questioning.
"Next time you won't get away so easily" the minister alleges he was threatened. One of the leaders of the protesters later said they didn't intend at any moment to harm the physical integrity of the minister, but only his dignity. Like in many other protests, the call for the minister's harassment was done via Facebook.
Speaking later, PM Victor Ponta called on police to identify and hold those involved responsible. "There is a limit which if crossed the country is wrapped in anarchy" he said. He also called the incident unacceptable for a European country in the 21st century.
The incident involving the minister comes amid a tense atmosphere sparked by two large projects, the gold mining project at Rosia Montana and the shale gas explorations the US company Chevron is about to start in eastern Romania. With the gold mining project now on hold pending a vote in the Romanian Parliament which will seal the fate of the project, the attention of the public turned to the shale gas prospecting in the Vaslui County where people unexpectedly showed a fierce opposition to the exploration works.
Several hundred people in the village of Pungesti where the drilling will take place blocked the road leading to that perimeter and clashed with gendarmes, prompting Chevron to suspend the works. A referendum will be held in the village late November, though it is unlikely the results will be binding and will force central authorities to cancel the project.