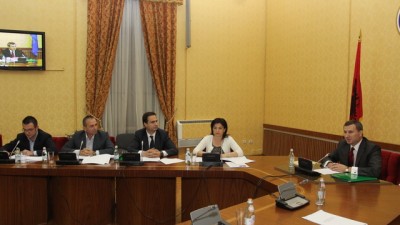 Tirana, May 2, 2013-The enquiry committee which has been established in order to shed light upon the incident taken place in Vienna between the head of the Socialist Party, Edi Rama and the diplomat, Egin Ceka, has decided to demand the relevant documents from the Ministry of Foreign Affairs to shed light upon what happened in the political academy of Vienna.
The chairman of this committee, Fatbardh Kadilli declared that Edi Rama and Egin Ceka will be summoned for a hearing in order to shed light upon what has happened, while testimonies will be required from the participants, including the socialist MP, Damian Gjiknuri.
Amongst others, Kadilli said that Fate Velaj, the organizer of the meeting along with the Albanian ambassador in Vienna, Vili Minarolli will also be summoned to testify.
During the incident taken place in the Diplomatic Academy of Vienna, the Ministry of Foreign Affairs and the majority said that Mr. Rama had pulled Mr. Egin Ceka's year and had abused with him after a debate on the problems of the Albanian diplomacy. /ibna/