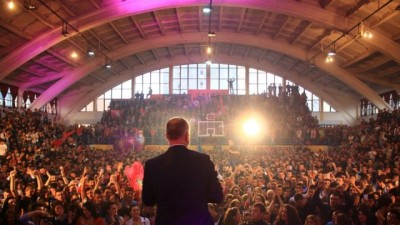 Tirana, April 30, 2013-A day after the voting in parliament of the enquiry committee which will shed light upon the incident taken place in the Diplomatic Academy of Vienna between the chairman of the Socialist Party, Edi Rama and the diplomat, Egin Ceka, this committee has started work today.
The chairman of the committee, Fatbardh Kadilli declared during his speech that all information will be gathered in order to shed light upon the facts, because this event goes beyond all limits.
Kadilli said that with his behavior, the head of the SP has threatened the dignity of not only a diplomat, but of all the diplomacy and the country.
Kadalli said that he felt sorry about the fact that the opposition hadn't brought representatives in this committee, promising that the truth and nothing more but the truth will come out about what happened in Vienna.
The head of the committee said that all hearing sessions with the persons involved in this event will take place and all available footage will be seen within the deadline of the committee's mandate.
The democrat members of this committee are Paulina Hoti, Luçiano Boçi, Osman Metalla and Gerti Bogdani, while the opposition has not proposed its members by not filling the vacancies. During the incident taken place in the Diplomatic Academy of Vienna, the Albanian Ministry of Foreign Affairs and the majority said that Mr. Rama had pulled Mr. Egin Ceka by the ear and had violated him, after a debate on the problems of the Albanian diplomacy. /ibna/