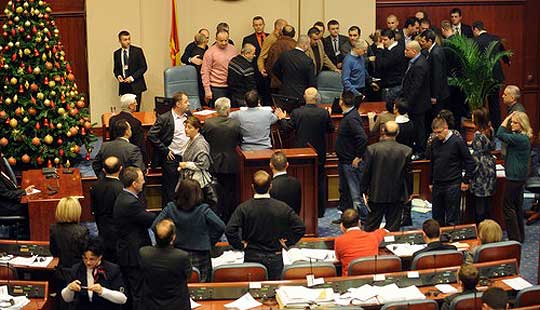 Skopje, June 14, 2013
Enquiry commiittee which will shed light upon the violent events of December 24 of last year in FYR Macedonia will hold its first meeting today.
This meeting will be held in the cabinet of president of the country Gjorgje Ivanov  and it follows Tuesday's agreement between majority and opposition to elect university professor Borce Davitkovski as chairman of the committee.
This committee will be comprised of legal experts Lubomir Ferckovski and Renata Deskovska-Trenevska proposed by LSDM and Ilija Dimovski and Blagorodna Dulic proposed by VMRO-DPMNE.
The first meeting will be held today in the presence of the president of the country, Gjorgje Ivanov. The committee will enquire upon the events of December 24 last year in the Parliament of FYROM, as to whether there have been breaches of the Constitution and violations of democracy. The creation of this commission is part of the agreement of March 1 this year reached in Skopje with the intermediacy of EU enlargement commissioner, Stefan Fule, who led to the unblocking of the political crisis and the holding of local government elections. But, the formation of the committee and the unraveling of the December 24 events has been one of the conditions which has been constantly demanded to be met by the European Commission.
The events of December 24 in the Parliament of FYR Macedonia relate to the ousting of opposition MPs from the plenary hall as they blocked the session where the 2013 budget was to be voted. Opposition MPs were taken out by force, while the majority without any debates and by ignoring the amendments of the opposition, voted in favor of the budget. /ibna/