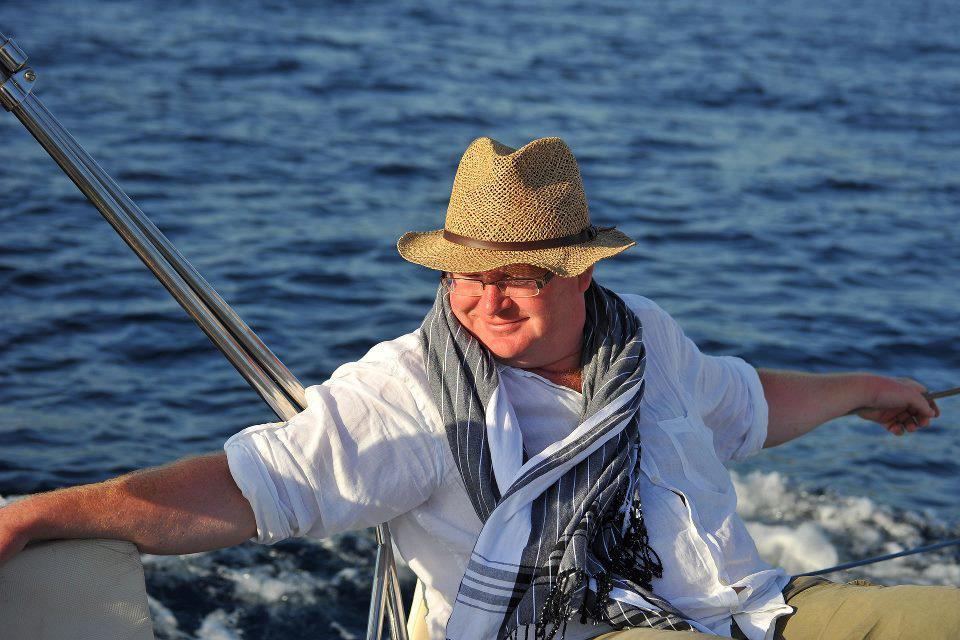 By Natasa Radic
Paul Bradbury is a British professor of English, Russian, French and German language, who moved to Jelsa (island of Hvar) ten years ago. He is the best known expat living on the famous tourist island of Hvar. He writes blog on Hvar and Split and has published two tourist guidebooks in English.
The story of his life sounds so fatefully : He is a former humanitarian aid worker (Siberia, Georgia, Armenia, Rwanda) and was working in Somalia in 2002, when he received a message that his house had been sold in England, and the money was in the bank.
-I went to get a drink from the fridge in the room where my African colleagues were watching CNN. The adverts came on and then I saw it "Croatia, the Mediterranean as it Once Was". I decided to buy a house in Croatia that evening.
Why Hvar? How did you decide to move on the island – what was the crucial moment of your decision?
-I did not know Croatia at all (two days in Dubrovnik was my total experience), but I had a Canadian aid worker friend in Sarajevo who was there during the war. I went to see her in Sarajevo and she made a list of 10 places over a beer. I wasn't really listening – it was a lovely evening, the girls so pretty – and when she asked me which place sounded the best, I closed my eyes and pointed to number 6 – Hvar. I had never heard of it before and had no idea it was an island.  My friend said she and her Bosnian boyfriend could come for a long weekend to help me look. It was the middle of August and so we left at 03:00 on a Friday to make the first ferry at Drvenik. Over a coffee in Sucuraj, the boyfriend – who hardly spoke all weekend – said: "I think Jelsa is the nicest place on the island." I decided to buy immediately. We drove through eastern Hvar – Bogomolje, Gdinj, Zastrazisce – and I was asking myself "Where are the people?" And then we came to Jelsa in August. Perfect. There was only one house for sale, so I bought it.
How did your first days on the island look like? What did you think about the local people – what was your relations like with them – could you feel great difference between your mentality and people from Hvar?
-I came back a month later to complete the sale, got my keys and moved in. And then all the businesses started closing for the season. I didn't understand it. Coming from Manchester, where we don't have tourists, it took some time to understand. I started to panic, wondering if anything would be open in December. I needed to learn the language – fast. I went to the library to borrow a kid's book in Croatia, and there she was – with eyes bluer than the sea. We married a few years later and have two lovely girls. Other things I remember in those first days was panicking about life with a septic tank, waking to find the town's postman at the foot of my bed one morning, and trying to find my postal address. People were a little confused by my arrival – why would an Englishman move here full time – but my next door neighbour was very welcoming and came round with a bottle of rose. He turned out to be one of the country's finest winemakers – the legendary Andro Tomic.
You are the author of Hvar and Split tourist guidebooks. Which town will be the next for your next guidebook?
-Ha. ANOTHER guidebook? Hvar and Split were enough for now, but we will see. I am getting a little more interested in Central Dalmatia in general, so we will see.
Which are the advantages of Dalmatia which are not used well enough for promoting tourism?
-The potential of Dalmatian tourism is phenomenal, quite apart from the climate and the beaches. Take a short drive north of Split to Sinj, where TZ director Jelena Bilic is doing a fabulous job promoting the town – nothing to do with beaches, and a fascinating day trip from Split. Regional tourist board director Josko Stella has a great vision for developing inland tourism – adventure tourism, Roman roads, eco-ethno villages. There is so much of interest – much of it unique to the region – that Dalmatia should and could be a 12-month destination.
For a long time Croatian tourism was just based on a few basic pillars of the industry – good climate, clean sea and beautiful nature. Is that enough?
-Dalmatia is rich in so many tourist-related things, and its climate and beaches are obviously top of the list, but the region could and should be offering more. Global tourism is a lot more competitive than it used to be, and there are so many hooks to attract different types of quality tourism. Take one of the region's most under-exploited tourism resources – wine. The village of Svirce and town of Jelsa on Hvar are three kilometres apart. Their wine producers include PZ Svirce (organic gold medal winners last year in Germany), Ivo Caric (medals at BIWC 2013 in Sofia last week, exports to Chicago), Ivo Dubokovic, Croatia's leading 'garage' winemaker, and Andro Tomic, with his fabulous Romanesque tasting rooms. Working with boutique agency Secret Dalmatia and the Hvar Wine Association, we are building a concept called Hvar Wine Time Traveller, allowing tourists to experience the wine through the island's rich heritage. Highlights include the Ancient Greeks (Stari Grad Plain tour and tasting), the Romans (including tasting at Tomic), the Great Rebellion of 1510-14 (Konoba of Miki Bratanic in Vrbanj, Pinjata in Vrboska), the arrival of phylloxera (Ivan Dolac), the oldest Plavac Mali vineyard in the world (Dol, 1860), Hvar wine in the Socialist era (PZ Svirce) and the modern era. We have had great early interest from gastro agencies in Scandinavia, UK and America, who are looking to develop gastro-tourism in Croatia.
For a number of years Croatia is facing a problem of young people and younger generations moving out from the islands. Does Hvar, for example, as one of the most famous Croatian islands, have a perspective that will help younger people staying in their home towns and villages on the island?
-With such a short tourist season, life and opportunities are difficult for young people, but opportunities do exist, and can be created. One shining example is the agency Secret Hvar, which offers off-road Jeep safaris around the island's hidden places. From nothing, it has become the best tour on the island, recommended by BBC and Lonely Planet. There needs to be a strategy for encouraging younger people to return to the island, as there is certainly the interest. We get requests for help for people wanting to return – a lady wanting to open a violin school in Stari Grad, another a salsa school in Vrbanj. They all want advice on the viability of their ideas. With a little help, the islands could be regenerated, and that would also help with the development of longer-season tourism.