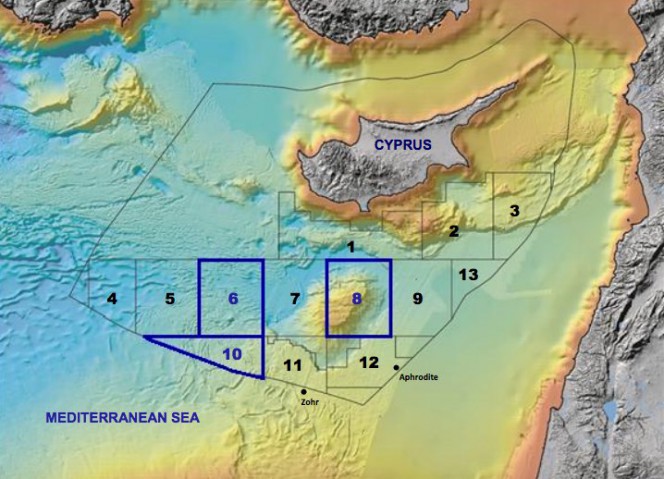 Nicosia, July 22, 2016/Independent Balkan News Agency
By Kyriaki Demetriou – CNA
Energy Minister Yiorgos Lakkotrypis announced on Friday that the Ministry received a total of six bids from eight companies for its third licensing round for offshore exploration in blocks 6, 8 and 10 of Cyprus` Exclusive Economic Zone (EEZ).
Lakkotrypis said he was pleased with the outcome of the procedure, noting that the Government's goals for this round have been fully achieved.
The period for submission of proposals for the 3rd licensing round expired at 1pm.
"We received six applications by eight companies for all three blocks that were available for exploration licensing" the Minister told a press conference.
"Given the challenging conditions in the global hydrocarbon industry, we designed a process that would attract companies with financial strength and experience, both at the stage of exploration and exploitation of hydrocarbons within the EEZ of Cyprus," Lakkotrypis said.
"Based on the goals and targets that we have set as a Government for this round we are absolutely pleased about the outcome of being able to attract companies of the highest caliber that will be able to support and help Cyprus in its efforts for exploration and exploitation of its natural resources in the Cyprus exclusive economic zone," he stressed.
The Minister noted that "things went as we expected. Let`s not forget that the whole industry is going through a difficult time, so they (the companies) should be both technically competent and financially sound".
He also noted that at the moment there are almost 5,200 available for licensing worldwide. "The targets set by the Government in this round have been fully achieved I must say".
The Minister confirmed that there were bids from new companies that didn`t take part in the two previous licensing rounds launched by Cyprus.
The names of the interested companies and consortia will be announced next Wednesday, July 27th, after the Minister will have officially informed the Cabinet.
A press release from the Energy Ministry said that under the provisions of the relevant legislation, the six applications submitted will be evaluated by the competent Advisory Committee, which will then draft its opinion in a preparatory report. On the basis of the report and the recommendation of the Minister of Energy, the Council of Ministers will appoint the team that will negotiate, with the companies selected, the final terms of the Exploration and Production Sharing Contracts.
The final decision for the granting of exploration licenses is at the discretion of the Council of Ministers.
Source: CNA