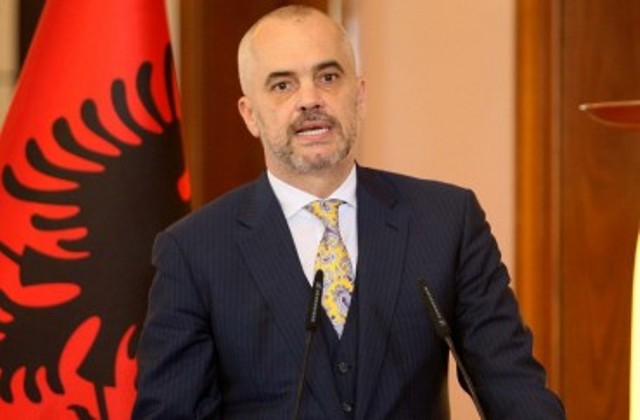 Tirana, November 3, 2014/ Independent Balkan News Agency
A finance deal worth 150 million USD was signed today between the Ministry of Energy and Industry and the World Bank for the energy sector.
Prime Minister Edi Rama declared in his speech that the previous government passed on many debts to this government and that this government is working not to pass on debts to the next government.
Rama said that a delayed reform is a painful reform, but assured that the pain of this reform is nothing compared to the pain that everyone would suffer if the reform was postponed for another year.
The head of the government declared that the first year managed to prevent the deep crisis in the energy sector and a collapse which has to do with companies and institutions. "We will manage to have an energy sector where stealing to oneself is a thing of the past and where everyone will pay for what he consumes. People must understand that this is about the long term future of society and realize that it's not our fault that things degenerated up to this point. Our responsibility is not to let things degenerate even further", said Rama.
Goldstein: The lifting of the 300 kw threshold is a necessity
On her part, representative of the World Bank, Ellen Goldstein declared that the conflict with CEZ required an immediate solution, in order to regulate the energy sector, adding that this system hadn't received investments for many years.
According to her, the current government took measures in order to prevent the crisis, adding that the government will make serious investments in the energy sector, because according to her, the success in such sector guarantees investments in infrastructure, health, etc.
He considered the situation with the thefts in the energy system as lack of responsibility, encouraging punitive measures in this system.
Goldstein declared that the lifting of the 300 kw threshold for the energy price is necessary to stop abuses. He added that the government must carry out reforms to move forward, inviting the government to embrace the reform.
"In the five years to come, reforms will be sustainable in every sector. This amount of 150 million USD will help the government for the medium term and this is the key to exploit resources. The government has continued to pay arrears and this must continue. This is a positive moment and we expect to look further ahead. We have seen progress in these six months. There are achievements, but this is a case which can be further exploited. Albania is a leader of reforms in the Balkan and this grows faith", says Goldstein.
Gjiknuri: Growth of investments
In his speech, minister Damian Gjiknuri declared that after the agreement with CEZ, the Albanian side has appropriated the shares. The minister declared that the current government found the energy sector almost destroyed, with losses amounting to 270 million USD a year.
He guaranteed growth of investments in the energy sector and declared that all those who steal energy will be punished. Gjiknuri said that this year, there will be a new law on the energy sector. /ibna/