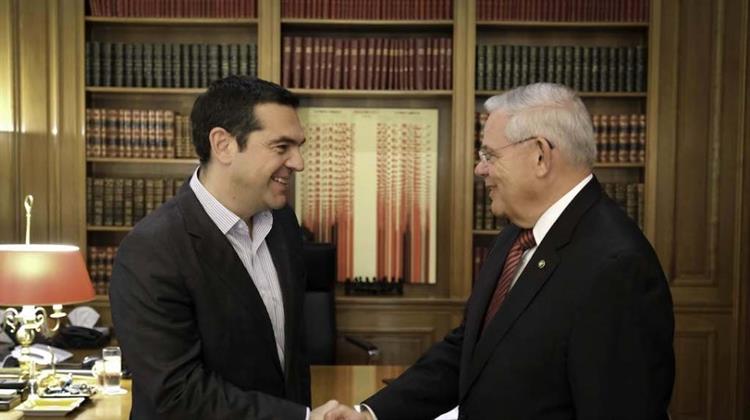 Energy developments were at the top of the agenda of the meeting between the Greek Prime Minister Alexis Tsipras and the US Senator Bob Menendez, head of minority of the US Senate Committee on the Foreign Affairs.
At the meeting, according to a written announcement by the Greek Prime Minister's Office, particular emphasis was placed on the bill currently being promoted to Congress at the initiative of Senators Bob Menendez (Democratic Party) and Marco Rubio (Republican Party) concerning the Security in the Eastern Mediterranean, the emergence of Turkish provocation and the promotion of Energy Partnership in the wider region of SE Europe.
In this context, the continuous deepening of the strategic relationship between Greece and USA in the fields of security, defense, economy and investment attraction was discussed, as well as its institutional upgrading with the beginning of the strategic dialogue last December in Greece.
Furthermore, the changes in the region's energy map and the key role of Greece in these developments, the strengthening of cooperation between the USA and the triangle Greece – Cyprus – Israel, as well as cooperation with Egypt were discussed.
Bob Menendez was particularly concerned about the importance of the cooperation both within NATO and at bilateral level, underlining that Greece is the pillar of stability and security in the region.
In this context, he stressed the importance of the Prespes Agreement for Stability and Growth in SE Europe.
Finally, the two men also extensively discussed Turkey's role in the region, as well as the need for it to respect the international law in the Aegean and Cypriot Exclusive Economic Zone.
According to diplomatic sources, during the meeting, Bob Menendez, when he congratulated the prime minister for the Prespes Agreement, noted that "History remembers leaders, not politicians".
It is noted that Bob Menendez received a detailed text on the Turkish violations in the Aegean./ibna